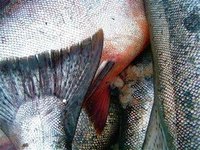 Historically used to treat joint pain and colds, fish oil's growing reputation is extending to the treatment of heart disease and mental disorders. Omega-3's role in heart health is currently undergoing close study, and the American Heart Association recommends adding fish and fish oils to the diet for optimum heart health. Adult and child mental disorders are another field where omega-3 fish oil is gaining recognition as a positive treatment.
Fish Oil
Fish oil is derived from the fatty tissue of oily cold-water fish. In the early days of fish oil consumption, cod liver oil was consumed as a treatment for colds and joint pain. The treatment was found to be effective, but the thick, strong-smelling, dark substance was difficult to swallow. Modern fish oils are refined to increase the levels of omega-3 long-chain fatty acids while reducing the risk of mercury contamination.
Properties
Omega-3 fish oil contains the long-chain fatty acids docosahexaenoic acid (DHA) and eicosapentaenoic acid (EPA). DHA, in particular, is found to improve the development of the brain and nervous system in infants. Both EPA and DHA help to reduce the development and risk of heart disease (see References).
Heart
The American Heart Association recommends adding oil-rich fish to the diet at least two to three times a week. Not only is fish a good source of protein, it is high in long-chain omega-3 fatty acids. Omega-3 fatty acids can help prevent, and treat, sudden heart stroke. Consuming fish, or fish oil supplements, can lower blood pressure, decrease growth rate of atherosclerotic plaque, decrease triglyceride levels, and decrease risk of arrhythmias (see References).
A.D.H.D
Fish oil is used to treat mood disorders such as adult depression and anxiety. Increasingly, fish oil is being studied as a treatment for children with autism, dyslexia and attention deficit hyperactivity disorder (ADHD). Low blood levels of DHA found in children with ADHD has prompted studies to test the correlation between DHA deficiency and ADHD. According to Paul Montgomery, author of the British Oxford-Durham study published in the journal Pediatrics in 2005, fish oil improved the children's ability to concentrate and stay on task (see References).
Considerations
When taking a fish oil supplement, some cautions are advised. Mercury toxicity can be avoided by consuming purified pharmaceutical-grade fish oil. High doses of fish oil can cause excess bleeding by thinning the blood and hindering coagulation. It is advised to avoid high doses of fish oil before surgeries. Other effects of high dosage may include upset stomach and nausea.