The apple is a major player in an allergic reaction known as Oral Allergy Syndrome (OAS). Apple allergies are most often associated with "birch pollen," which accounts for up to 90 percent of the apple allergies within North America and northern Europe. Because apple allergies are centered on pollen, almost all apple allergy reactions happen after eating a fresh piece of apple (especially with the skin) or other members of the Rosaceae family of fruits, which also includes the peach and hazelnut. It is also important to note that individuals who are susceptible to an apple allergy will only be affected by the raw fruit and not apples that have been cooked or pasteurized. This is because the allergy causing proteins cannot withstand either preparation process.
Watery Eyes, Runny Nose and Sneezing
Oral Allergy Syndrome that is brought on by an apple allergy often results in watery eyes. Children's Hospital of the King's Daughters Health System also adds that symptoms such as a runny nose and sneezing can also present themselves. Simply peeling the skin of the fruit, or allowing it to come in contact with the skin of the hands or face can bring on this type of reaction.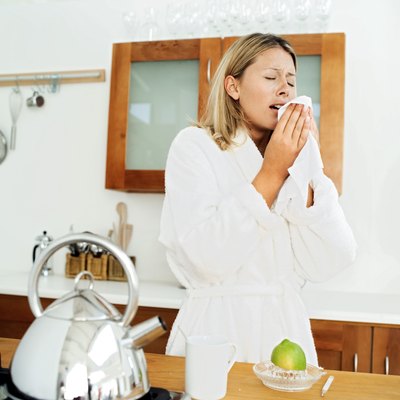 Itching and Swelling
According to allallergy.net, itching can be a sign that an apple has been ingested. Along with the itching may be a tingling and swelling of the tongue, lips and gums. Dangerous swelling may also occur in and around the throat, resulting in the danger of asphyxiation. This serious condition known as anaphylaxis can result in low blood pressure, nausea and trouble breathing. Therefore, medical attention should be sought at the first sign of anaphylaxis.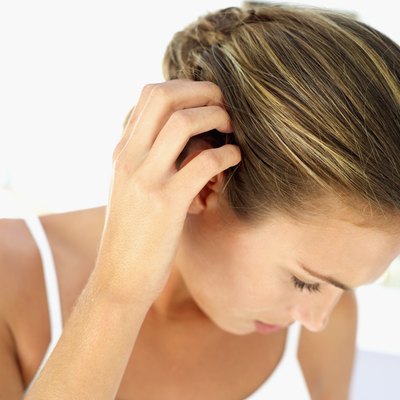 Hives
Apple allergies can present themselves in the form of hives around the mouth. CNNhealth explains that hives may occur along with seasonal allergies and with the eating of fresh fruits belonging to the Rosaceae family. The close connection in the symptoms that are presented with apple allergies and seasonal pollen allergies suggests that there may be a direct link between the proteins that are found in apples and those that are found in birch pollen.
Dislike for Apples
In young children, a dislike for apples or other members of the Rosaceae family may be viewed by the parents as a sign of a picky eater. In reality, the child may simply be responding to the reaction he gets after eating the apple. According to Allergy and Asthma Network, if the child experiences itchiness without noticeable signs of swelling or hives, it may be difficult for him to express himself and share what he is feeling. Instead, he may just turn away from eating apples.
Diarrhea and Abdominal Pain
Some may experience diarrhea and abdominal pain. At times the allergy can have such a severe effect on the gastrointestinal system that bloody stools may occur. The Mayo Clinic explains that diarrhea and bloody stools can lead to dehydration. Adults should seek medical attention if the gastrointestinal condition persists for longer than three days; 24 hours for children.