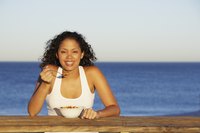 Diabetics need to watch their intake of carbohydrates and sugar, but this doesn't mean that cold cereals are off-limits. You just need to follow a few simple nutrition guidelines and serve your cereal along with the right accompanying foods for a simple, healthy and diabetic-friendly breakfast.
What to Look For
Find a cereal made from whole grains that has at least 3 grams of fiber per serving. Each serving should also have at least 3 grams of protein and less than 6 grams of sugar. The best options have no more than 150 calories, less than 30 percent of calories from fat, less than 30 grams of carbohydrates, no trans fat and no more than 1 gram of saturated fats, notes registered dietitian Elizabeth Burt in an article on the Diabetic Living website.
Making a Meal of It
Once you choose a cereal, you need to make it into a complete meal by adding other nutritious foods. Top your cereal with 1/2 cup of low-fat milk for protein and a serving of fruit if you haven't already reached your recommended limit for carbohydrates for the meal. This will add more vitamins, minerals and fiber to your breakfast. The American Diabetes Association recommends using unsweetened soy or almond milk instead of regular milk if you'd like to decrease your carbohydrates and calories for the meal.