Stomach cancer can present many symptoms that are general -- they're symptoms of any number of illnesses -- and some symptoms that are indicative of cancer specifically. Whether you witness weakness or loss of appetite, vomiting or bleeding, your response should be a visit to your feline veterinarian.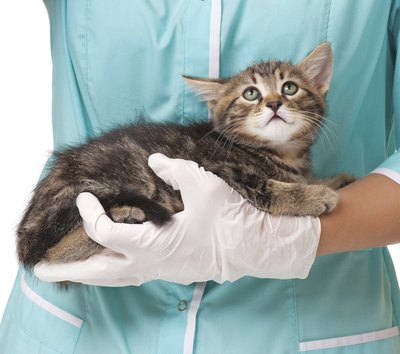 Types of Stomach Cancers
Cases of cancer, including stomach cancer, are not as common in cats as they are in dogs. Still, cats can develop a number of cancers of the gastrointestinal tract, including adenocarcinoma and mast cell tumors. Adenocarcinomas, aggressively invasive cancers, often spread to a number of organs, including the liver. Mast cell tumors can appear in a number of places, including the digestive tract and lungs. Lymphoma, a type of cancer usually connected to the feline leukemia virus, can affect the entire body.
Symptoms of Stomach Cancer
A common sign of stomach cancer is vomiting, sometimes with blood present. Stomach cancer causes digestion issues and related weight loss. Problems digesting proteins might lead to overall weakness, including muscle weakness since muscle is mainly made of protein. Cats with stomach cancer might show other general symptoms, such as loss of appetite, loss of stamina, difficulty breathing and difficulty eating. Cats are masters at hiding illness, so you might not notice any symptoms early on.
Standard Treatment Is Surgery
If a tumor is present, surgery is the most common treatment option. This is especially useful for localized tumors and cancers that haven't spread to other organs. Radiation therapy and chemotherapy rarely serve in stomach cancer treatment because of the potential for damage to nearby organs.
Prognosis Negative for Malignant Cancer
Stomach cancer has a poor prognosis, even for pets who have surgery. Once cancer has spread, cats usually don't survive past six months. In many instances, surgically removed cancer returns within just a few months. On the other hand, cats whose benign tumors are successfully removed have a high survival rate.