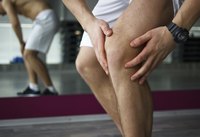 The buzz surrounding omega-3 fatty acids has primarily focused on the potential benefit of supporting overall heart health. Thanks to its anti-inflammatory effects, however, omega-3 also has other potential benefits, including joint pain relief in arthritis. The benefits may help joint pain related to other causes as well, such as post-workout discomfort. Understanding how omega-3 works, as well as the best sources, can help you determine how to work this fatty acid into your diet.
Link Between Omega-3 and Arthritis
Arthritis occurs when cartilage between the joints breaks down. As a result, the bones in your joints rub against each other, causing pain and swelling. Omega-3 doesn't work in the same way as pain relievers. Instead of simply treating pain, omega-3 is thought to fight inflammation that can lead to tissue damage and subsequent joint pain in arthritis.
Omega-3 may offer joint pain relief, especially when combined with other smart lifestyle choices, such as maintaining a normal weight and exercising regularly.
Benefits for Other Sources of Joint Pain
The effects of omega-3 can go beyond arthritis pain and help ease joint pain from other causes, such as working out. Oils in fish, which are particularly high in eicosapentaenoic acid, or EPA, help reduce an inflammatory response to exercise. On top of that, a study published in a 2013 issue of International Journal of Sport Nutrition and Exercise Metabolism reports that EPA supports athletic performance by improving the function of the blood vessels and by helping the body burn energy from fat.
Beneficial Omega-3 Food Sources
Cold water fish are among the best food sources of omega-3, and you can eat two servings a week to reap the potential benefits. Choose a variety of fresh tuna, herring, salmon and mackerel. Walnuts and pumpkin seeds also offer omega-3 to support joint health, as well as oils made from canola, flaxseed and soybean.
Omega-3 Supplements for Joint Pain
When it comes to omega-3, food sources are recommended over supplements. Still, omega-3 supplements like fish oil can come in handy if you don't care for eating fish or other natural sources of the fatty acid. According to the University of Maryland Medical Center, fish oil supplements may reduce inflammation while also decreasing dependence on pain medications for joint pain. Furthermore, a 2006 study published in the journal Surgical Neurology found that people who suffered from regular back and neck pain gained the same type of relief from omega-3 supplements as they did from nonsteroidal anti-inflammatory medications.