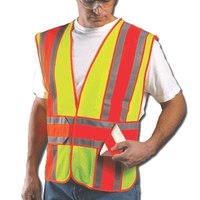 Retroreflective apparel protects workers when it is critical to be seen in all lighting. High visibility clothing is mandated in some cases by government regulation. Fluorescent color alone is not enough to make clothing safe. It is important the right material be used to address the safety needs of the garment and that standards and regulations for the production of that garment be met. Retroreflective material came into use during the 1920s road building boom. The first application of this technology was for road signs.
Choosing the Right Material
High visibility clothing is either retroreflective, reflective, or a combination of both. High visibility clothing is made from high tech polymers and breathable reinforced fibers colored to distinguish the garment from its surroundings. The colors of the garment are reflective to make sure the worker is seen in direct sunlight situations with a strip of retroreflective material applied for low light situations. Strips are made of micro prismatic or glass bead technology.
Uses For High Visibility Clothing
High visibility apparel is needed in any job requiring the employee to be in or around highway and roadway traffic, warehouse traffic, sidewalk maintenance, delivery drivers and construction sites. Retroreflective clothing is mandatory for first responders. Parking and toll employees and forestry employees are also candidates for retroreflective clothing and other types of personal protective equipment like helmets, goggles, gloves, vests, and face shields. High visibility clothing is critical for jobs where the employee is at risk in low light situations or in the vicinity of machinery.
Stantards and Guidelines
The industry has standards and guidelines for the production of high visibility apparel. These standards help to ensure all clothing companies make a product to protect workers in hazardous situations. The standards and best practices of the industry are voluntary. Hazards are everywhere in the workplace and uniform standards and guidelines ensure that employers use every means to protect workers whose lives depend on high visibility clothing.

Who Sets the Standards
The American National Standards Institute (ANSI) and the International Safety Equipment Association (ISEA) are the two organizations that set industry standards. The American National Standards Institute publishes documentation of standards for retroreflective apparel and protective clothing for occupational environments and for non-professional use for adults and children. The first standards were introduced in 1999 and were updated in 2002 and 2004. ANSI/ISEA 107 2004 was published October 11, 2004 and is now the accepted standard for the industry. . The standards include headgear as well as apparel. These two organizations and their international partners make sure safety apparel around the world has up-to-date guidelines.

Distrubution
Thousands of companies distribute high visibility clothing nationally and internationally. Prices are competitive and many items of clothing are available. Employers need to work with companies who comply with industry and government standards. These companies can help to guide the employer through the process and advise him on what will keep his employees safe. Company sales representatives keep the employer abreast of new guidelines and provide training.

Risk Factors
.There are three levels of risk for high visibility clothing: class one for workers not in traffic; class two forworkers who are on or near roadways and class three for workers who must be visible at distances of 1,280 feet through a range of body motions.
OSHA Manditory Regulations and Industry Standards
The Occupational Safety and Health Administration (OSHA) sets government mandatory regulations for who must use and provide high visibility clothing. Regulation 29CFR 1926.651 (d) sets requirements for workers who are exposed to vehicular traffic stating "employees exposed to vehicular traffic shall be provided with, and shall wear,warning vests or other suitable garments marked with or made of reflectorized or high visibility material. OSHA refers employers to ANSI/ISEA 107 2004 as a guideline and standard to provide high visibility and enhanced personal protective equipment for their employees