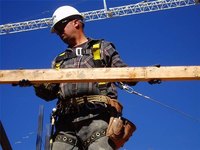 In 1970, Congress passed the Occupational Safety and Health Act. This legislation is designed to safeguard employees from preventable accidents and illnesses. Three agencies work together to make this possible. The National Institute for Occupational Safety and Health (NIOSH) conducts research, develops recommendations for best practices and provides employee education. OSHA develops and enforces regulations for workplace safety and health. The Bureau of Labor Statistics (BLS) tracks data related to worker injuries, illnesses, and fatalities.
Facts
The total number of fatal workplace injuries in 2007 was 5,657 - an average of 15 per day. BLS statistics show an overall downward trend in workplace fatalities from 5.2 per 100,000 workers in 1992 to a low of 3.8 in 2007. Non-fatal workplace injuries and illnesses affect 40 million private industry employees every year. Three out of ten incidents result in lost work days. An estimated 9,000 individuals receive treatment in emergency rooms each day for injuries sustained at work.
Significance
According to OSHA, occupational injuries and illnesses cost U.S. businesses $170 billion per year. The majority of these costs are related to workers compensation payments and administration. This is followed closely by the price of lost productivity. Employees who cannot return to work at all must be replaced. This adds recruiting and training expenses to the final dollar figure. These expenditures cut into the profit margin of businesses and make them less competitive. Individual workers bear the burden of reduced lifetime income, pain and suffering.
Considerations
Workplace health and safety regulations serve an important purpose in U.S. industry. Since the inception of these programs in 1970, worker fatalities have been reduced by 50 percent. Occupational illnesses and injuries are down 40 percent over the same time period. There is still more to be accomplished. In 2007, OSHA conducted 39,324 work-site inspections. Between 2004 and 2007, the number of repeat violations of workplace safety laws has increased. Further education is needed to convince employers of the advantages associated with adhering to federal regulations.
Benefits
The cost savings associated with a reduction in WC claims and lost productivity make it well worth the effort and expense of instituting workplace health and safety initiatives. Many of the educational resources and tools required to develop a comprehensive program are available free of charge from OSHA, NIOSH, and the BLS. Companies that choose to participate in OSHA's Voluntary Protection Program (VPP) experience incidence rates 50 percent lower than the national average.
Misconceptions
Contrary to popular belief, asking OSHA for help in structuring a workplace safety program will not trigger an audit. This organization is designed to promote cooperation between employers, workers, and the federal government for the mutual benefit of everyone involved.