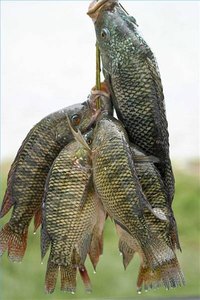 Tilapia is a widely popular fish native to tropical climates around the world. Farmed largely in China, tilapia is a fast-growing, prolific and strong fish that provides an excellent source of protein along with low fat and calorie content. Relatively large in size, tilapia is prized by producers for the ease at which it can be farmed. Its mild flavor, light texture and white color have contributed to its worldwide popularity. It is set to overtake salmon as the number one farmed fish in the world.
Nutrition
Tilapia is a high protein fish that is low in carbohydrates. It has a low sodium content and contains healthy levels of phosphorus and niacin. It is also rich in selenium and vitamin B12, an essential vitamin for healthy cell function.
Low Mercury and Toxicity Levels
Unlike other oily fish that function on carnivorous or high animal protein omnivorous diets, tilapia survive on vegetables, seaweed and cereal grains. This, along with their rapid growth rate, short lifespan and quick turnaround, contributes to the very low levels of mercury they contain. Mercury is introduced in very small levels and does not have time to accumulate in their systems like other large, oily fish.
Cooking
Tilapia's mild flavor and light bodied texture make it the perfect fish for seasoning. Grilling and baking tilapia are the two most common methods of preparation. The versatility of flavor that can be applied to tilapia comes from marinades, oils and spices that all take well to the flaky, white meat. Tilapia is also available year-round, so you can always count on it being at the store when you want it for dinner.
Muscle Building
Tilapia is a key part of a muscle-building diet. For patients in recovery and therapy that are rebuilding muscle, people looking to build muscle to naturally burn body fat and people seeking strength-building foods, tilapia is used due to its rich levels of protein and low levels of fat. The USDA reports that tilapia contain 2g of fat per 3.5 ounces of fish. That's an amazingly low fat volume ratio.
Low Fat & Calories
Comparatively, tilapia contains about half of the calories of a similar quantity of salmon. For every gram of fat in tilapia, an equal quantity of salmon contains 7.9g of fat, and twice the calories. Tilapia is a lower-fat, non-oily fish that has fewer omega-3 acids than oily fish, but still provides many beneficial heart-healthy nutrients compared to other meat choices, such as chicken, pork or beef.
Economic Benefits
Because tilapia is a fast-growing fish that eats a diet of vegetables and cereal grains, it can be raised for much lower production costs, and turned over quicker for a profit. Its popularity stems largely from its affordable price, which is driven by tilapia's ability to grow quickly into marketable fish.
Aqucaulture
These economic benefits contribute largely to tilapia's influence on worldwide aquaculture. Their large size, quick growing habits and popular flavor have made tilapia the third most important aquaculture fish. They are easy to farm because of their vegetarian diet, high stocking density and fast growth.