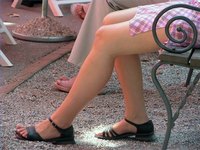 Although we may think of the knee as a hinge, it's really more complicated. The knee joint is able to adduct, abduct, extend, flex and rotate. Such range of motion affords more opportunities for potential injury. One common symptom of an injury is a stiff knee. A stiff knee joint may be a sign of several different conditions. These include injury to the ligaments ACL, LCL, MCL or PCL; arthritis; patella fracture; and so-called jumper's knee. Sometimes an injury leads to stiffness. The knee joint also can become stiff after surgery (such as reconstruction of the ACL) or as a result of arthritis.
Injuries and Stiff Knee
The knee joint is frequently hurt during sports or due to overuse before it fully matures. Common knee injuries occur in ligaments, connecting bones to bones; tendons, connecting muscles to bones; cartilage; the bursa, a sac which holds the fluid inside a joint; and in the knee bones themselves.
ACL Injury
An injury to the anterior cruciate ligament (ACL) is common among athletes. Swelling, deep knee pain, stiffness and instability are signs of an ACL injury. The ACL is deep inside the knee joint and may be hurt when the joint endures impact, as in jumping followed by a twisting motion. It also may be injured when landing on an overextended knee. Recommended treatments include a knee brace or surgery followed by physical therapy.
LCL and MCL Injuries
The lateral collateral ligament (LCL) links the shin to the thigh bone. Stiffness, pain on the outer side of the knee and pain when bending or extending the leg are signs that the LCL has been hurt. If knee stiffness is accompanied by pain on the inner side of the knee joint, especially when flexing or extending the leg, medial collateral ligament (MCL) damage is possible. For both LCL and MCL injuries, immediate treatment includes applying an ice bag for 10 minutes every two hours. A knee brace may also be helpful.

PCL Injury
The posterior cruciate ligament (PCL) is bigger than the ACL but is also subject to injury. A PCL tear does not usually cause pain or swelling, but stiffness and instability, however, are common symptoms. A knee brace and physiotherapy can usually get athletes back to their sports within six weeks.
Osteoarthritis
Knee joint swelling, stiffness--particularly in cold weather--and pain with overuse may be signs of osteoarthritis. Related to overuse or a previous injury, osteoarthritis is characterized by degeneration of the joint and usually appears in middle age. Ice packs, a knee brace and analgesics may help. If major pain makes daily activities unbearable, knee replacement may be the treatment of choice.
Fracture
Stiffness may also result from a fracture of the patella or knee cap. Swelling, intense pain and impact to the knee are indicators. Treatments include casting or surgery in addition to physical therapy.
Jumper's Knee
Another cause of stiffness, often affecting teenage athletes, is patellar tendinitis or "jumper's knee." The patellar tendon becomes inflamed, causing pain that increases after activities such as running or walking down steps. It often occurs during a teen's growth spurt and can last for months. Wearing a patella tendon strap and using ice packs and shock-absorbing insoles is sometimes helpful.