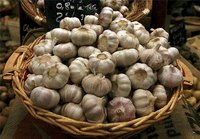 An allergy to garlic is not common, and its symptoms are typically mild. The main problem that a garlic allergy presents is that garlic is a difficult thing to avoid unless you do 100 percent of your cooking at home, because many processed foods and foods prepared at restaurants contain garlic.
Gastric Symptoms
A garlic allergy can affect the stomach and intestines, causing inflammation. This inflammation can cause stomach upset, heartburn, diarrhea, stomach bloating and gas. Because these symptoms can be mild, most people don't recognize them as symptoms of a garlic allergy. The symptoms are treatable with over-the-counter medications.
Nasal Symptoms
Garlic allergies can also cause a stuffy or runny nose. If you experience a stuffy or runny nose within minutes of ingesting garlic, you might be allergic to it. Keep a food diary, noting any symptoms you experience after eating certain foods, to determine whether your symptoms might be due to a garlic allergy.
Skin Symptoms
Some people's garlic allergies manifest in the form of redness, itching or rash. This may occur as the result of touching garlic or ingesting garlic.
Respiratory Symptoms
Coughing, chest tightness and wheezing may also be symptoms of a garlic allergy. These symptoms are more common in people who have asthma or a related illness. Respiratory symptoms are usually the result of inhaling the dry garlic dust when preparing garlic for cooking.
Treatment for a Garlic Allergy
There is no medical treatment or cure for an allergy to garlic. Although mild symptoms can be treated with medication, the allergy itself cannot be cured. Ultimately, the patient has to decide whether he wants to eat garlic and treat the resulting uncomfortable symptoms or avoid garlic altogether.