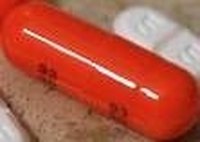 Neurontin is the brand name of gabapentin, a prescription pharmaceutical compound similar to the neurotransmitter GABA (gamma-Aminobutyric acid). Produced by Parke-Davis, a subsidiary of Pfizer, Neurontin has several uses, including as an off-label treatment for various anxiety disorders in patients whose anxiety disorders prove resistant to more traditional medications. An off-label use is one that has not been approved by the FDA. Once the FDA approves a drug and its indications, it does not regulate its use, so doctors often prescribe pharmaceuticals for other treatments that have proven safe and effective.
Uses
Neurontin is an anticonvulsant approved for controlling seizures from epilepsy. Neurontin has subsequently been approved for use in treating neuropathic pain, pain triggered by neurological functions (like phantom limb syndrome) or damaged nerves, rather than by a direct injury. In addition, Neurontin is increasingly being used for a off-label purposes. These include migraine prevention; reducing withdrawal symptoms as part of the Prometa rehabilitation program for methamphetamine, cocaine and alcohol; treating Restless Leg Syndrome; and for treating bipolar and anxiety disorders.
Anxiety Disorders
Neurontin is prescribed to reduce the symptoms associated with anxiety disorders. Such symptoms typically include tension, chronic worry, irrational fears, agitation, panic attacks, racing heartbeat, hypertension, sweating, weakness, difficulty breathing and chest pain. The most common anxiety disorders are generalized anxiety disorder, panic disorder, obsessive-compulsive disorder, social anxiety disorder, phobias (especially agoraphobia), post-traumatic stress disorder and separation anxiety disorder. Also, Neurontin is used to treat akathisia, anxiety that results from use of certain antipsychotic medications.
Effectiveness
Neurontin is prescribed for anxiety disorders when more standard treatments such as selective serotonin reuptake inhibitors don't work well enough. Neurontin has been found to be effective in these cases when compared to a placebo, particularly when used in conjunction with more traditional treatments. The supporting evidence is strongest for using Neurontin to treat generalized anxiety disorder, panic disorder and social anxiety disorder.
Indications
The initial dose of Neurontin is usually 300 mg daily, which is gradually raised as necessary.Neurontin is not approved for use in children under 12. Neurontin should only be taken by pregnant women if a doctor believes the benefits outweigh potential risks. Neurontin can be taken with or without food. Antacids can inhibit the absorption of Neurontin, which can increase the effects of birth control pills. Avoid alcohol while on Neurontin, as it can lead to frequent and severe side effects. Patients must wean off Neurontin, as stopping abruptly will cause withdrawal symptoms.
Side Effects
Side effects with Neurontin are generally mild, and most patients don't find them disruptive enough to discontinue use. The most common side effects include dizziness, fatigue, drowsiness, nausea, constipation, diarrhea, dry mouth and hyperactivity. More serious but rare side effects include swelling of the limbs, mood swings, depression, thoughts of suicide, loss of muscle coordination and involuntary eye movements.