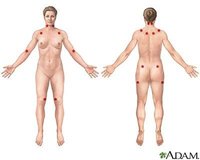 Fibromyalgia in itself is not fatal, but sometimes it can hurt so severely that you may wish you were dead. Fibromyalgia's rheumatic pain will affect your everyday life. Speaking from the experience of someone who has fibromyalgia, it takes numerous tests to be diagnosed with this disease. Because it is not an obvious illness, people may not believe that you are really sick and may make rude or obnoxious comments. There are medicines and other remedies that can alleviate pain and help improve your life.
History and Diagnosis
The history of fibromyalgia is somewhat imprecise. In 1990, the American College of Rheumatology offered two standards for diagnosing fibromyalgia, both of which are required to be met for a patient to be identified with fibromyalgia. These two conditions are: A record of widespread pain and the pain must be present in at least 11 of 18 pressure points on the body. The physician will apply pressure with his or her hands to these various pressure points of your body to establish your pain threshold. Before a physician will even decide to attempt the fibromyalgia diagnosis, several blood tests and other test may be performed. Your primary physician may also send you to other specialists. When all other illnesses or diseases are eliminated, then your physician will do the available test, such as the pressure point test. The physician uses these results and answers from previous discussions to verify the diagnosis of fibromyalgia.
Symptoms
The symptoms of fibromyalgia are not limited to just muscle aches. Some people experience only muscle pain, while others experience several of these symptoms. The symptoms of fibromyalgia consist of chest pain, headaches, IRB (commonly referred to as Irritable Bowel Syndrome), severe menstrual cramps, fatigue, anxiety and brain fog just to name a few. Fibromyalgia is not a progressive disease causing more symptoms, but sometimes the symptoms may disappear altogether. Women between 20 and 50 are more commonly diagnosed with fibromyalgia. Women are, however, not the only ones with this disease. Men, young and old, have been diagnosed with fibromyalgia. In fact, some children have been diagnosed with this disease.
Fibromyalgia Drug Treatments
Your physician will decide the best treatment according to your symptoms. There are several drugs available right now for the treatment of all symptoms. Lyrica is one of these drugs. Lyrica is effective for fibromyalgia, but could become ineffective over time for your symptoms. If this happens, your physician will need to wean you from this drug. Cymbalta is another drug that physicians may prescribe for fibromyalgia symptoms. Your physician may also choose to treat each of your symptoms separately and may prescribe anti-depressants for depression. Opiates are considered effective for pain but can be habit forming. Physicians do not like to give these types of drugs unless absolutely necessary. Sleeping pills can help you sleep, but these have side effects too. There are drugs available to treat each symptom and new treatments are being developed everyday.

Physical Exercise, Alternative Therapy
Another recommendation to alleviate pain is some kind of physical activity, such as yoga or Pilates. Physical activity should be limited to short periods at the beginning and should start at about five minutes at a time, adding about five minutes every two weeks. Be very careful to not overdo the physical activity because it can hurt your already aching muscles. Physical therapy, massage therapy and other treatments are also out there to help with pain. Aways discuss these activities with your physician before starting an exercise program. Remember there are treatments and therapies available to help you cope.

Look to the Future
Fibromyalgia is painful but is not a fatal disease. One day someone will find the cause and a cure for fibromyalgia. Ask your physician any questions you may have. If you think of more questions after your visit, write them down. The key for feeling better is to arm yourself with as much information as you can. Do your own research, using the computer, books and any other information available. Also remember to follow all your physician's directions, do not do anything with first discussing it with him or her. Live your life to the fullest and enjoy what you can.