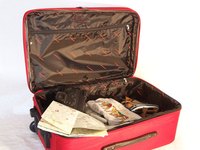 EVA Air's baggage requirements address both the weight and size of luggage. Bags that exceed the limitations are subject to extra charges.
Baggage Handling
EVA Air suggests that all baggage should be packed in proper suitcases to reduce the risk of damage. The airline takes no responsibility for damage to, loss of, or delay in delivery of items in the bags or the baggage itself. The airline may X-ray your baggage before or after check-in to ensure that you have packed according to the regulations. Passengers should report to baggage check-in 40 minutes or more before departure time.
The Piece System
EVA Air's baggage requirements accommodate the regulations of various countries. For the United States, Canada and certain countries in South and Central America, EVA uses the "piece system." Anyone with a Premium Laurel Class, Business Class or Super Business Class ticket can bring two pieces of baggage. Each must measure less than 158 cm (62 inches) and must weigh less than 23 kg (50 lbs.).
If you're traveling with a ticket for Economy Class, Elite or Evergreen Deluxe, you may also have two pieces of baggage. For anyone with an Evergreen Deluxe Class ticket, there is a weight limit of 28 kg (61 lbs.), and for anyone with an Economy Class ticket, the weight limit is 23 kg (50 lbs.).
The Weight System
For countries not listed above, EVA Air uses a weight system. This requires that all baggage fall under a certain weight limit determined by ticket class. Super Business Class, Business Class and Premium Laurel Class bags cannot go over 30 kg (66 lbs.). The weight limit for Evergreen Deluxe Class and Elite Class is 20 kg (44 lbs.). Economy Class has a weight limit of 20 kg (44 lbs.).
Excess Baggage
The piece system has charges based on how much the baggage exceeds the proper dimensions, number and weight. If the number of pieces exceeds the limit allowed, the charge will be per piece, following EVA's Air Tariff system. The Air Tariff system is used to ensure fair taxes and fees. The charge on extra baggage is determined by this system and presented at the time of submission. If the baggage exceeds 158 cm (62 inches) but weighs less than 32 kg (70 lbs.), one charge will be applied. If it exceeds 203 cm (80 inches) and weighs more than 32 kg (70 lbs.), three charges will be applied. If the piece weighs more than 32 kg (70 lbs.) but less than 45 kg (99 lbs.), three charges will be applied. The weight-system charge is calculated based on each extra kilogram exceeding the allowance.
Carry-on Baggage
Carry-on baggage is also permitted, but only if it fits under the seat or in a closed overhead bin. This baggage must weigh no more than 7 kg (15 lbs.) and can be no more than 56 cm by 36 cm by 23 cm in dimension, or 115 cm (45 inches) overall when the three are added together. An additional item such as a laptop, purse, briefcase, camera case or small backpack may also be carried onto the plane, along with outerwear, food or a shopping bag.