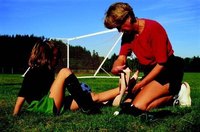 Heel pain in children is generally characterized by tenderness of the heel, difficulty walking and pain along the back or bottom of the foot. Although the pain may be moderate, it is important to have a physician evaluate your child, as heel pain is often a symptom of a more severe condition. Physical therapy, a reduction in physical activity and rest help to treat this condition.
Symptoms
Children who suffer from heel pain may limp or walk on their toes so as to relieve putting weight pressure on the heel. Patients may also have difficulty participating in usual activities, including organized sports and may complain about pain in the back or bottom of their foot.
Most Common Cause
Most commonly, heel pain in children is caused by a disorder called calcaneal apophysitis, or Sever's Disease, which generally affects children between the ages of 8 and 14 and especially those who may be overweight or obese. This disorder is caused muscle strain or repeated stress to the heel, and causes an inflammation in the heel's growth plate. This disorder causes tenderness and pain in the back or bottom of the heel, makes walking painful and may cause pain if the child' heel is touched. This disorder can occur in one or both of the child's feet.
Additional Causes
Although heel pain is most commonly caused by Sever's Disease, it can also be associated with a condition called Tendo-Achilles bursitis, which is an inflammation of the bursa, or fluid-filled sac in the food located between the Achilles tendon and heel bone. This condition can result from certain diseases (such as rheumatoid arthritis), poorly-cushioned shoes or injuries to the heel. The disorder may also be caused by overuse. If a child is repeatedly running, pounding on hard surfaces or jumping, the pain may be associated with excessive stress to the foot. Children who play on track, basketball or soccer teams are more likely to develop this condition. Fractures may also cause heel pain, and occur when the bone breaks due to stress. In children under the age of 10, minor fractures can occur from jumping merely 2 to 3 feet or off a couch or stairway.
Diagnosis
Because heel pain may be an underlying symptom of a more severe condition, it is important to have your child evaluated by a physician. Generally, pediatricians recommend that children visit a foot and ankle specialist. This doctor will ask about recent activities, examine the child's foot and may take an X-Ray, MRI or CAT scan of the injured area. Laboratory tests may also be done to help diagnose additional causes of heel pain.
Treatment
Children can treat heel pain by reducing physical activity and refraining from the activities that put stress on the heel. In addition, children should rest and cushion the heel using temporary shoe inserts. Medications, physical therapy and orthotic devices may be necessary for children with moderate heel pain. In cases of severe heel pain, children are often immobilized, must undergo physical therapy and may even undergo surgery to lengthen the tendon or correct additional causes.