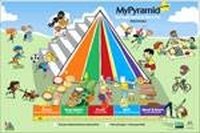 The kids' food pyramid is a variant of the United States Department of Agriculture food pyramid. Both pyramids illustrate ways of eating and living that promote healthy bodies, minds and lifestyles. The modified pyramid for children has been re-created to emphasis new knowledge on kids' diet and health needs.
Function
The Food Pyramid for Kids is a simplified version of the USDA's Food Pyramid that guides children in healthy eating and exercise habits. The pyramid primarily illustrates how much of each type of food a child should eat, and which products constitute different types of food. Although the triangular shape was once broken up into separate, box-like compartments, the revised pyramid is made up of diagonal lines that shade various regions of food types.
Features
The Food Pyramid for Kids is made up of six colorful sections shaded by diagonal lines. Each section takes up a unique size of the pyramid, because children are advised to eat more of some foods than others. The pyramid contains sections for grains, vegetables, fruits, milk, meat and beans, and oils. In addition, the pyramid recommends that children consume a variety of vegetables for optimum health, and that over half of the grains consumed should be whole wheat. Although oil is not technically a food group, the pyramid includes oils and advises children to consume oils--including fish, nuts and liquid oils--for good health. The federal kids' food pyramid also advises children to exercise. It uses colorful illustrations of children riding bikes, running, roller-skating, stretching, playing sports and climbing stairs that align the pyramid.

Interesting Facts
According to the government's food pyramid for children, kids should consume 6 oz. grains every day, and at least 3 oz. should be whole wheat. Children should also consume 2 1/2 cups of vegetables every day and at least 1 1/2 cups of fruits each day. Children should aim to consume 3 cups of milk every day if over age 8, and children who are 2 to 8 years old should consume 2 cups. The pyramid also recommends that children eat 5 oz. of meats and beans a day, and stick to a 1,800-calorie diet.
Misconceptions
Although the food pyramid was once segmented in layers, this shape provided too much emphasis on grains--which physicians now believe are not as essential as a wide variety of vegetables and fruits. The pyramid's updated diagonally sectioned shape emphasizes this change. In addition, oils have been added to the new food pyramid because oils derived from fish, nuts and vegetables are now considered essential in a healthy child's diet. Finally, although exercise was once absent from the kids' food pyramid, the new guide recommends at least 60 minutes of exercise each day. This may come in the form of organized sports, gymnastics, soccer, bike riding or even moderate walking.

Expert Insight
The government's food pyramid for children advises children to eat whole-grain bread, since not all "brown" bread is whole wheat. By looking for ingredients that begin with the word "whole," children can ensure they're getting the best nutrients for their bodies. The guide also advises children to eat color-rich vegetables and to consume a variety of "colors" each day, including green broccoli and orange carrots. According to the guide, juice is best when it's 100 percent juice, and beans are considered an excellent source of lean protein.