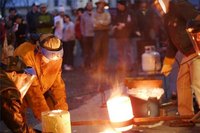 Metal is recycled by melting down scrap metal and reusing it in the production of new products. The most commonly recycled metals are iron, steel and aluminum. Recycling metal reduces pollution, saves resources, reduces waste going to landfills and prevents the destruction of habitats from mining new ore. Producing recycled aluminum uses 95 percent less energy and emits 95 percent less carbon dioxide than when making aluminum from bauxite ore. Producing recycled steel reduces the carbon dioxide emissions by 80 percent, according to Corus Group, a steel-producing company.
Function
Because metals are not renewable resources, meaning the supply of metals will eventually run out, recycling helps provide for their sustainable use. In the 2005 United States Geological Survey's "Mineral Yearbook," commodity specialist John F. Papp wrote that recycling metal assists its supply and availability. According to the International Aluminum Institute (IAI), a global forum for aluminum producers, as a result of energy savings, recycling metals also considerably lowers emissions and the cost of production, which serves as a major incentive to metal producers.
Benefits
Recycling metals is helpful in reducing climate change but it is also economically beneficial. According to the Environmental Protection Agency, recycling metals preserves and increases the number of domestic manufacturing jobs and bolsters America's competitive edge in international markets. Recycling metals lowers the amount of materials going to landfills, a service paid for by taxpayers. According to WasteCap, a nonprofit organization that helps businesses develop recycling programs, reducing consumption and waste can also improve a company or organization's customer and community image.

Features
Metal by nature is suited for recycling. Unlike paper, metal can be recycled without any loss of quality or strength because its atomic structure doesn't change when melted, according to the IAI, and unlike plastic, metal can be recycled indefinitely. According to Waste Watch, a pro-recycling nonprofit group, aluminum is the most economical material to recycle; steel's magnetism makes it especially easy and inexpensive to sort and recover, according to The Association of European Producers of Steel for Packaging.
Types
Ferrous and nonferrous are the two kinds of recycled metal. Ferrous scrap metal is made of iron or steel and is often salvaged from old cars, steel beams and railroad tracks. Nonferrous scrap metal is made of any metal other than iron or steel, most commonly aluminum from foil or cans. According to Waste Watch, recycling nonferrous scrap is more profitable than ferrous scrap, even though ferrous scrap both exists and is recycled in greater quantities.

History
Metal has been recycled since long before the environmental movement became popular. Bjørn Berge, Filip Henley and Howard Liddell wrote in their book, "The Ecology of Building Materials," that during the Industrial Revolution aluminum and steel became fundamental in building construction. According to the IAI, approximately 75 percent of the 700 million tons of aluminum manufactured internationally since industrial production started in the late 1800s is still in use.