An ear infection, also known as otitis media, is one of the most commonly diagnosed illnesses for a toddler. According to the National Institute on Deafness and Other Communication Disorders, three out of four children will experience an ear infection by the age of three. Symptoms of an ear infection are wide-ranging and sometimes hard to identify, especially in toddlers who may be limited in speech. It is important to pay attention to the following signs.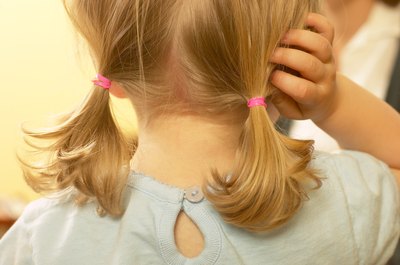 Cold Symptoms
Most cases of ear infections occur during or shortly after a cold. When sinuses are affected by a cold, the excessive drainage often makes its way to the middle ear, causing irritation and infection. It is rare for a toddler to develop an ear infection without any recent cold symptoms.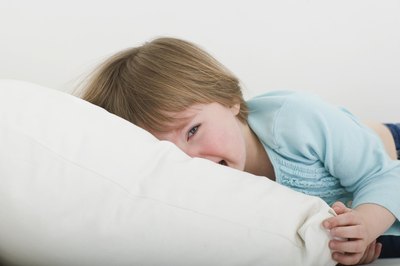 Fever
Not every toddler with an ear infection will have a fever. However, a low-grade fever of 101 to 102 degrees Fahrenheit will sometimes accompany an ear infection. A fever by itself is always an indication that a child is sick, so it should be brought to a doctor's attention.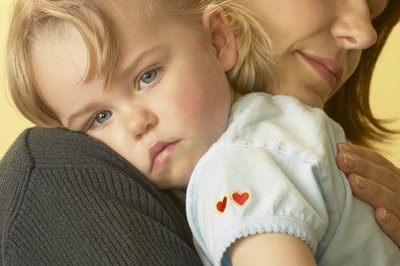 Diarrhea or Vomiting
Although people don't commonly associate ear infections with diarrhea or vomiting, the virus that causes ear infections can also affect the digestive system. Sometimes, a cranky child with diarrhea can be misdiagnosed with an upset stomach when he actually has an ear infection. This is why it is important to have a doctor evaluate all of the symptoms.
Irritability
As with any illness, an ear infection can make for a cranky toddler. Not only can an ear infection cause a substantial amount of discomfort for a toddler, it can also disrupt a child's eating and sleeping schedule. These are all conditions that can make a toddler more sensitive than usual.
Difficulty Sleeping
Fluid builds up inside the middle ear when a toddler has an ear infection. This causes a sense of fullness and pain inside the ear, which is amplified when the child is lying down. During the day, a child with an ear infection might act perfectly happy. As soon as he is lying down to sleep, however, the pain can worsen.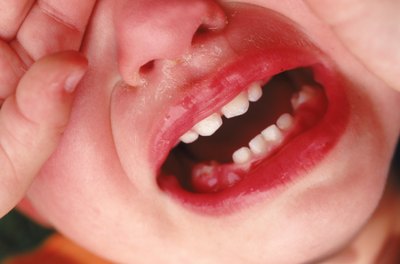 Ear Pulling
Occasionally, toddlers pull on their ears out of discomfort when they are suffering from an infection. Toddlers will also pull on their ears when they are sleepy, fussy or bored. Therefore, ear pulling shouldn't always be considered a sign of illness. If the ear pulling is accompanied by other ear infection symptoms, then it is possible the child is sick.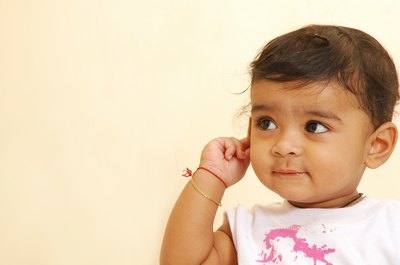 Loss of Appetite
Ear infections can cause a lot of pain, which is sometimes amplified when swallowing. Although toddlers may not be able to tell you they are in pain, a loss of appetite can indicate it hurts to swallow. Refusal to eat or drink, when coupled with any of the above symptoms, can indicate an ear infection.