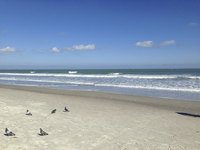 Port Canaveral in central Florida is a launching spot for cruise vessels traversing the waters of the Caribbean Sea and the Gulf of Mexico, making it essential for passengers to find accessible airports. This is not a problem as four international airports and one regional airport are within 75 miles of the cruise terminals.
Melbourne
Although the city of Melbourne's international airport is small, it rates high with cruise passengers because of its proximity to the port. As of 2014, nonstop flights arrive daily from major domestic and international hubs US Airways and Delta Airlines serve. Only 26 minutes south of Port Canaveral, the Melbourne International Airport is easily accessible, with a scenic drive across the Indian River, Merritt Island and the Banana River to reach Port Canaveral.
Orlando
Two airports in Orlando service central Florida, and Orlando International Airport is the largest and busiest. With hundreds of flight operations per day, this airport welcomes a fair share of passengers bound for Cape Canaveral, which is about 40 miles west of the airport. Orlando Sanford International Airport is approximately 20 miles north of Orlando and about a one-hour drive from Cape Canaveral, serviced by a few major carriers as well as charter flights. Rental cars, shuttles and private-hire transportation options to Cape Canaveral are available from both Orlando-area airports.
Space Coast
Just 15 minutes from the port at Canaveral, the Space Coast Regional Airport on the borders of Titusville and Cocoa is an option for those arriving via private, corporate or charter flights. It is the closest airport to the Kennedy Space Center and offers rental cars for travelers wishing to explore the region before heading to Port Canaveral.
Daytona Beach
Although farther away at a distance of 75 miles, the Daytona Beach International Airport appeals to travelers who wish to double up on Florida attractions by hitting the Daytona Beach International Speedway, beaches, museums or the city's family water park before or after a cruise from Cape Canaveral. Florida Shuttle Transportation offers prearranged rides to Port Canaveral, with discounted rates for multiple travelers.