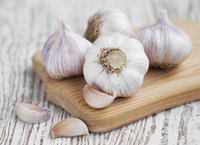 Using garlic in your food can help you add flavor without adding sodium or fat, letting you cook healthier dishes. Garlic on its own doesn't add many calories or nutrients to your food, although it does provide small amounts of vitamins and minerals as well as beneficial antioxidants and plant chemicals.
Vitamins and Minerals
Although a three-clove serving of garlic contains only 13 calories, it provides 6 percent of the daily value for vitamin B-6, 5 percent of the DV for vitamin C and 8 percent of the DV for manganese. You need vitamin B-6 for forming red blood cells and proper immune function. Vitamin C and manganese both help with wound healing and act as antioxidants to limit damage to your cells.
Allicin and Health
Garlic contains a number of phytochemicals, or beneficial plant chemicals, that may provide health benefits. Allicin, one of the better-known phytochemicals in garlic, may help decrease blood sugar and blood pressure, limit blood clotting and lower your risk for heart disease, according to an article published in "Phytotherapy Research" in May 2013.
Ajoene Benefits
Another of the many phytochemicals in garlic that have shown potential health benefits is ajoene. This compound may be useful for lowering your cancer risk, because it appears to be capable of bringing on apoptosis, or the death of cancer cells, according to an article published in "BioFactors" in 2010. Ajoene may also help treat cancer by enhancing the effectiveness of certain chemotherapy medications, notes another article published in "Leukemia Research" in July 2004.
Getting the Most from Garlic
For the most benefits, you may need to eat the equivalent of two medium cloves of garlic each day, notes an October 2007 "New York Times" article. Use crushed garlic instead of whole garlic, because crushing the garlic releases more of the beneficial allicin. Wait at least 15 minutes before cooking the crushed garlic to give this reaction enough time to occur. You can use garlic hummus as a dip for vegetables, add garlic to your pasta sauce, make a side of cooked greens with garlic and cannellini beans or add salsa with garlic to your eggs in the morning to increase your garlic intake.