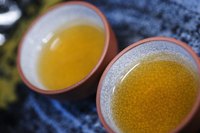 Senna is an over-the-counter herbal medicine approved by the U.S. Food and Drug Administration for use as a laxative. It's sold in a variety of forms, including commercial tea bags and loose leaves for brewing tea. Senna's history of use for treating constipation is well-documented. However, senna tea in particular is used for other purposes for which supportive evidence is lacking. The active substances in senna tea can cause serious side effects, so talk to your doctor before using senna tea.
Treating Constipation
Tea and other forms of senna are most commonly used short term as a laxative to relieve constipation. Tea is made from the fruit and leaves, which each serve different purposes. For treating constipation, the leaves are the part of the plant typically used to brew tea. The leaves have a strong laxative effect, while tea made from the fruit may have a milder effect. Because it's challenging to control the amount of active ingredient in brewed tea, standardized forms of senna are also sold as powders, liquid, tablets and capsules.
Weight Loss
Senna tea is marketed and used for weight control. However, there is no evidence that sennosides -- the active substance in senna -- promote weight loss. Some people believe the myth that laxatives help reduce the amount of calories your body absorbs. However, most food and calories are already absorbed by the time laxatives act on the large intestines. Any weight loss from laxatives comes from losing critical nutrients the body needs such as water, minerals and fiber. This makes the practice of using laxatives for weight control dangerous because it can cause serious health complications.
Other Uses
Senna tea is used for various other purposes such as relieving symptoms of irritable bowel syndrome, hemorrhoids and indigestion. Clinical evidence to support these uses is lacking. Senna is also an ingredient in some commercial health teas as a part of general health tonics. Scientists in China have identified six compounds found in senna leaves, according to a study published in the September 2007 issue of the journal Zhong Yao Cai. However, researchers have yet to determine what health benefits, if any, these compounds exert.
Using Senna Tea Safely
Because the risk of some side effects increases with overuse, avoid using senna tea made from leaves for longer than two weeks. There are no warnings against using tea made from the fruit long term, but no studies support long-term use either. In one documented case, drinking large amounts of senna tea made from the fruit over a period of more than three years caused liver failure, according to the July 2005 edition of the journal Annals of Pharmacotherapy. Senna tea may cause diarrhea or gastrointestinal issues such as stomach cramping, and it also interacts with numerous medications. Avoid senna tea if you have bowel obstruction or inflammatory bowel disease or if you're pregnant or nursing.