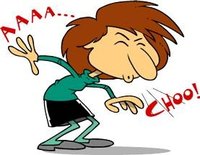 There are many different things that can aggravate the sensitive lining in your mouth and nose. Irritants can be found in almost every environment. Overexposure to these irritants can lead to the development of an allergy. Sinus allergies affect many Americans, and coping with a them can prove to be a painful and frustrating experience.
Allergy Causes
Culprits to blame for a sinus allergy may include pollen, ragweed, pollution, pet dander, food particles, cloth fibers, mold, as well as dead insects and their waste. A less well-known cause is an allergy to certain foods such as dairy products, wheat, eggs, chickens, ducks, chocolates, peanuts, bananas and corn.
The Body's Response - Allergies
The nasal membrane uses mucous to flush the nasal cavities clean. These particles that have entered the nasal cavity are not able to be removed through the normal filtering process. This debris then hardens within the nasal cavity causing a blockage within the nasal membrane and cavities.
Allergy Seasons
Many of these sinus allergies are directly tied into the weather and seasons. Sinus allergies usually attack in the spring, late summer and early fall.
Symptoms
Many people may confuse a sinus allergy with the symptoms of a common cold. Common symptoms include a headache, runny nose, excessive sneezing, itchy nose, sore throat, bad breath, postnasal drip, excessive coughing and loss of taste and smell. Many people experience puffy eyes, grogginess, lack of balance and hearing difficulty. If not treated properly, allergies can develop into a more serious infection and sinusitis.
Treatment
A few things can be done to eliminate sinus allergies. Nasal irrigation in the least invasive procedure. A simple saline wash is flooded into the nasal cavity to remove any residue that may be contributing to the sinus inflammation. Menthol inhalation is also a common treatment. This not only alleviates some of the nasal congestion but may inhibit the spread of infection. Modern yoga techniques have been suggested as treatment. Medication is another treatment.