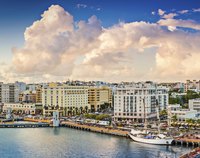 Puerto Rico offers mainland United States citizens the experience the Caribbean without needing a passport. Travel to the area is safe as long as you exercise common sense and take typical travel precautions.
Crime
Puerto Rico has issues with human trafficking, illegal weapons and drug smuggling. To protect yourself from these and other crimes, stick to well-lit streets with a lot of people. Be aware of the people and activities around you. Keep your valuables locked up in your hotel-room safe and keep a close eye on your purse or bag. When possible, travel in a group and avoid wandering in places with which you're unfamiliar, particularly after dark.
Health
If you're traveling to Puerto Rico, the CDC recommends being up to date on basic vaccines for measles, mumps and rubella; the flu; polio; chicken pox; diphtheria; pertussis and tetanus. In addition, you should get vaccinated for typhoid and hepatitis A since you can become infected by eating or drinking the wrong thing. Protect yourself by using bug repellants, drinking bottled water rather than tap and eating well-cooked, hot food.