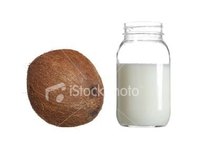 Anyone who has struggled with unsightly finger- or toenail fungus knows just how difficult it can be to get rid of. Six to eight percent of adults suffer with some form of onychomycosis, or fungal infection of the nail, and standard treatments can take up to a year or longer to completely kill off the infection. While few studies have been conducted confirming or denying the effectiveness of various natural remedies, much anecdotal evidence has begun to mount regarding the healing properties of coconut oil for all kinds of skin conditions. When combined with pure oregano oil, coconut oil may not only help restore and strengthen the surrounding tissues, but also provide a vehicle for the antifungal acids of both the coconut and oregano to penetrate beneath the nail to where the infection lives.
Before You Begin
Fungus-infected nails generally have a yellowish hue and tend to be thicker than normal, misshapen and brittle. There is usually no pain, although the nail can become separated from the skin underneath as the infection progresses. If all of your nails seem to be deteriorating equally, you probably do not have a fungal infection, but rather a nutritional deficiency or other condition. If you notice dark spots on any of your nails, there is a possibility you could have a melanoma. In either case, consult a doctor as soon as possible.

Things You Will Need
Extra virgin coconut oil--this can be purchased at a health foods store or online at Amazon.com. Coconut oil will keep for up to 2 years stored at room temperature. Oregano oil -- VitaminShoppe.com is a good source for this. Make sure you are buying the oil (look for the picture of the bottle with the dropper) and not the capsules.

The Steps
Make an ointment by mixing 5 parts coconut oil to 1 part oregano oil. Do not use undiluted oregano oil as it will burn your skin.
Wash the affected area and keep the nails trimmed as closely as possible.
Massage a small amount of the ointment thoroughly into each infected nail, concentrating on the areas where the nail meets the skin. Your skin will tingle from the oregano oil, but if it burns uncomfortably, decrease the proportion of oregano oil in your ointment.
Wait several minutes for the ointment to soak in before walking around, or putting on socks and shoes (if treating your toenails) or working with your hands (if treating your fingernails).
Continue this process morning and evening for a minimum of 2 weeks until the infection has completely disappeared. If you do not see significant results within several months, you may need to consider a more aggressive approach, such as laser treatments or having the infected nails removed.
Tips
Keep your feet dry and wear clean socks. Warm moist environments are where fungi and molds do their best work, so the drier and cleaner your feet are, the better your chance of stopping and reversing the infection.
Don't go barefoot in public areas such as locker rooms or communal showers. These are the places where fungal infections are usually picked up in the first place.
Sunlight helps. Twenty minutes a day of exposing your nails to sunlight may help kill off the infection more quickly. Just be sure to use some sunblock.

Enjoy Fungus-free Nails...
...and spread the word so that others can free themselves of unsightly nail fungus as well.