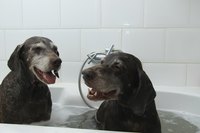 Demodectic mange, caused by the Demodex canis parasitic mite, is the most common type of mange affecting dogs. Most dogs harbor some of these mites, but their healthy immune systems keep the mites under control. Demodex mange occurs in adult dogs with weak or malfunctioning immune systems. Milder cases occur naturally in puppies and typically clear up on their own. If your adult dog develops demodectic mange, consult your veterinarian for appropriate treatments. Demodectic mange can be stubborn, requiring months of treatment.
Puppy Mange
Puppies acquire the Demodex canis mite during their first days of life as they nurse and cuddle with their mother. Since a puppy's immature immune system can't effectively combat the mites, puppies less than a year old often show signs of localized demodectic mange in the form of small, scaly patches on the face. The majority of these cases resolve within a month without requiring any medical treatment.
From the Horse's Mouth
Ivermectin, a compound originally used to control internal parasites in livestock, effectively treats demodectic mange in most dogs. Only use ivermectin formulated for dogs, which typically is sold by prescription as a heartworm preventative, and only use it under your veterinarian's supervision. To treat demodectic mange, the medication is normally administered every one to two days. Prior to beginning a course of ivermectin treatment, have your dog tested for heartworms or heartworm larvae in our dog's bloodstream. Some breeds do not tolerate ivermectin including Shetland sheepdogs, Australian shepherds, old English sheepdogs, collies and heelers. Milbemycin, another oral heartworm medication, is also commonly used to treat demodectic mange.
Treating It Topically
The Demodex canis mite lives at the base of the hair follicle, making topical treatment tricky. Your veterinarian might recommend a dip containing the active ingredient amitraz, but it can cause side effects to both humans and dogs if not applied properly. If you choose to dip your dog, rather than have your veterinarian perform the procedure, protect your skin and eyes with long sleeves, latex gloves and safety glasses. Although shampoos aren't typically recommended by veterinarians to treat mange, you will need to shampoo your dog with a product containing benzoyl peroxide prior to applying the dip, which helps the dip work more effectively. Following your veterinarian's guidelines precisely, dilute the dip in your sink, bathtub or other container large enough for your dog to stand in. Partially submerge your dog in the dip and, with gloved hands, massage it into his skin. Repeat at seven to 14 day intervals until your veterinarian informs you that his skin scrapings show no signs of mites. Your veterinarian will perform these skin tests every two weeks until the problem is resolved.
Soothing His Skin
If your dog scratches himself excessively as a result of demodectic mange, it might cause a secondary bacterial skin infection. These infections often present with a foul odor, skin redness or thickening and darkening of the skin. If this occurs, your veterinarian prescribes oral antibiotics in addition to your mange treatment. He may also suggest an antibacterial shampoo to soothe the skin and help kill the bacteria causing the infection.