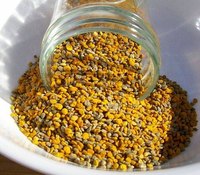 The therapeutic and nutritional benefits of bee pollen have intrigued many cultures. Medical records as far back as 2735 B.C. make mention of its power to heal the body and mind. And while this natural supplement is reported to treat a number of ailments, actual clinical proof of its effectiveness is sparse, and often contradictory.
Identification
Bee pollen granules are made up of fine powders, or pollen spores, that come from plants and flowers. Its chemical composition is a mixture of the male and female DNA chromosomes of a plant. The pollen spores are carried from plant to plant by bees, which is how plants are fertilized. These granules can be found on beehives as a result of pollen residues that brush off when bees enter and exit the hive. Nutrition-wise, this material contains proteins, carbohydrates, essential fatty acids and minerals.

Bee Pollen Components
Bee pollen granules have a rich chemical composition and purportedly contain every macro- and micro-nutrient required by the human body. As different pollen strains, or species contain different amounts of each nutrient, the actual amounts found in supplement capsules will vary. On average, the content is made up of 60 percent carbohydrates, 20 percent protein, 7 percent water and 6 percent minerals. Typically, the higher the protein content, the higher its nutritional value.
Uses
With bee pollen granules containing all 22 elements of the human system, it can be used in a number of ways. It's used to improve stamina, treat premenstrual symptoms, reduce hay fever symptoms, relieve gastrointestinal problems and aid the skin. Beside nutrients needed by the body, pollen also contains enzymes and amino acids. And while a number of claims have been made as to the therapeutic effects of this material, there's not much clinical research available to substantiate these claims (see References).

Effects
Bee pollen granules move through the human digestive tract at a fairly fast rate. Once they reach the stomach, granules are able to pass directly from the stomach into the bloodstream. Evidence of the material has been found in blood, urine, and cerebral and spinal fluids as soon as two hours after taking it (see References). It's combination of nutrients, enzymes and amino acids have antioxidant effects that are said to play a part in lowering the risks of cancer and heart disease.
Considerations
While bee pollen granules might contain a number of essential nutrients, the products sold online and in stores are actually made up of pollen collected from different kinds of plants. And as with most supplement products, there is no standard formula used within the manufacturing process. Since different types of plants generate different strains of pollen, the actual nutritional value of any one supplement brand is unknown. This, coupled with how pollen composition varies from season to season and beehive to beehive, further complicates any attempt to determine its actual nutritional content.