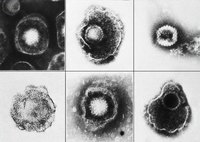 Genital herpes is a sexually transmitted disease that is caused by herpes simplex virus type 1 or type 2. According to the Centers of Disease Control and Prevention, the majority of the cases come from herpes simplex virus type 2. People who suffer from genital herpes can expect about four to five outbreaks in the first year. There is no treatment that can cure herpes, but there are antiviral medications that can shorten and prevent outbreaks during the time the person takes the medication.
Blisters or Ulcers
People who suffer from genital herpes will have outbreaks of blisters or ulcers in the genital area. The blisters are small, normally 1 to 3 millimeters, and are often grouped. Normally, the blisters form first and then break open to form ulcers. Herpes infections aren't always painful, but they can be tender.
Fever
Since herpes is a virus, some people might have a fever during the outbreak. A fever can occur whenever the body is fighting off an infection. This symptom can be treated with over-the-counter medications such as Tylenol or ibuprofen.
Muscle Aches
Muscle aches might also accompany an outbreak. Similar to other infections, the muscles can hurt anywhere on the body. Normally, the ache will be a dull aching pain that can be treated with Tylenol or ibuprofen. With genital herpes, muscle aches are common with the first outbreak, but this symptom might not occur with future outbreaks.
Headaches
People who suffer from genital herpes might experience headaches when an outbreak occurs. These headaches can be severe and might include migraines. Migraines are different from a normal headache. A person experiencing a migraine will be extremely sensitive to light and sound. The pain can last for several days and over the counter pain medications might not relieve this symptom.
Painful Urination
A herpes infection can also infect the urethra. If an infection occurs in the urethra, it can cause a burning sensation during urination. This symptom can be painful and extremely annoying, but it will go away once the outbreak clears up. This symptom might occur with each outbreak of genital herpes.
Swollen or Tender Lymph Glands
Tender or swollen lymph glands are common with any infection. With an outbreak of genital herpes, the lymph glands at the top of the leg, next to the genitals, may swell. As the infection heals, the swelling will go down.