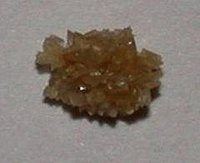 Kidney stones can cause a variety of painful symptoms that typically worsen over time. A single kidney stone can be as tiny as a grain of sand or as large as a golf ball. Some kidney stones require surgery in order to be removed. However, it is possible to pass very small kidney stones through the urinary tract. Kidney stones can impair kidney function, making it harder for the kidneys to filter out toxins. Stones bring on pain, blood in the urine and painful urination. Some people may experience some or all of these symptoms at the same time.
Back Pain
One of the most common symptoms associated with kidney stones is back pain. The pain radiates between the mid and lower back on one or both sides. Back pain can make it difficult for a person to get comfortable or sleep well. As the stone gets larger, the back pain will become more intense over time and the kidney will feel as though it is going to burst. A large stone can cause a blockage depending on its location within the kidney. In most cases a blockage will stop the flow of urine and emergency assistance is needed.
Painful Urination
Pain during urination occurs when the stone is stuck inside a ureter or when the stone is going through the urethra. The ureters are the tubes that connect from the kidneys to the bladder and urethra. The urethra is the final opening where urine is excreted. The sharp edges of the stone cause the urethra to become inflamed, resulting in pain or even frequent urination.
Blood in the Urine
Blood in the urine is another troubling effect. Sometimes, when a stone is trying to travel through the ureters, it can become stuck and press on nerves, causing blood to come through the urine. Blood in the urine can also result from a stone that stays within the kidney due to pressure and inflammation.
Nausea and Vomiting
When a kidney stone causes a blockage and person is having difficulty going to the bathroom, he will often feel very nauseous. Nausea and vomiting are two reactions the body has when there is a severe blockage disrupting the flow of urine. If you or someone you know feels very sick while also not being able to pass urine, emergency assistance is needed.
Fever
As the body tries to get rid of the stone, inflammation can set in quickly. This results in a fever and sometimes a fever accompanied by chills. The fever may last until the stone is passed. People who have the above symptoms as well as a temperature over 104 need immediate medical treatment. The fever can also result from toxins due to urine buildup within the body.