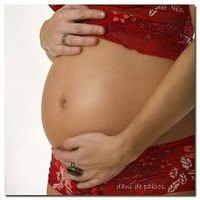 Pregnancy is an exciting, stressful and scary time in your life. Although it is important to relax and enjoy your pregnancy, it is also important to be aware of potential risks that can affect the health of both you and your baby. One such risk is premature contractions or premature labor. There are particular risk factors that can increase the likelihood of premature contractions. Having any of the risk factors does not mean that you will have premature contractions. On the other hand, a woman may have premature contractions for no discernible reason. If any of these risk factors apply to you, discuss your concerns with your doctor.
Significant Risk Factors
You are at the greatest risk for premature contractions if you are pregnant with multiples, have cervical or uterine abnormalities, or had a previous premature pregnancy.
Medical Risk Factors
You may be at a higher risk for premature contractions if you have frequent urinary tract, bladder and kidney infections, vaginal bleeding after the 20th week of pregnancy, high blood pressure, diabetes, kidney disease, a clotting disorder, or became pregnant again quickly after giving birth.
Lifestyle Risks
If you smoke, drink, use drugs, do not get proper prenatal care, are a victim of domestic violence or abuse, have high levels of stress, or work for long hours and stand for extended periods of time, you may be at risk for premature contractions.
Warning Signs
Some warning signs of premature labor or contractions include: a contraction every 10 minutes, cramps in your lower abdomen (they may come and go or be constant), a watery discharge from your vagina, a dull pain in your lower back or pelvic pressure. If you experience any of these symptoms, call your doctor immediately.
What to Do
If you believe that you are experiencing premature contractions, call your doctor. There are some things that you can do at home to help. Empty your bladder. Do not lie flat on your back. Lie down on your left side. Dehydration can contribute to premature contractions so be sure to drink plenty of water. After one hour, if the symptoms do not improve or they get worse, call your doctor again or consider going to the emergency room.
Treatment
Magnesium sulfate can be used to treat premature contractions. It is given through an IV and may cause nausea. A large, initial dose is administered. A smaller amount is then given continuously for the next 12 to 24 hours.
If the doctor feels that your premature contractions cannot be stopped and premature delivery is inevitable, she may give you Corticosteroid. This will help accelerate the baby's lung and brain growth.