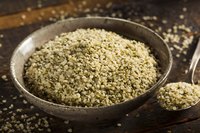 Hemp oil is made from the seeds of the Cannabis sativa plant, but it doesn't have any psychoactive properties. It consists mainly of healthy unsaturated fats and has a good ratio of omega-3 to omega-6 fats. Because of this, it may have some health benefits, although research results are still preliminary and conflicting.
Fat Breakdown
Hemp oil consists of 15 percent monounsaturated fat, 75 percent polyunsaturated fat and 10 percent saturated fat. This is less saturated fat than the more commonly used olive, peanut, corn, soy or sunflower oils. Saturated fat may increase your cholesterol and your risk of heart disease, and replacing saturated fat in your diet with unsaturated fat helps decrease your cholesterol levels.
Healthy Fat Ratio
Most Americans consume diets that are much higher in omega-6 polyunsaturated fats than omega-3 polyunsaturated fats, sometimes getting more than 15 times as much omega-6 as omega-3 fats. This type of diet may increase your risk for cancer, heart disease and inflammatory diseases like rheumatoid arthritis, according to a study published in Experimental Biology and Medicine in June 2008.
Hemp oil, however, has what is considered an ideal ratio of omega-6 to omega-3 fats, with the 3-to-1 ratio recommended for the best health effects, according to an article published in the Journal of Nutraceuticals, Functional & Medical Foods in 2000.
Potential Health Benefits
A review article published in Nutrition & Metabolism in 2010 notes that the beneficial ratio of omega-6 to omega-3 fats in hemp oil may help improve heart health, lower cholesterol and limit your risk for clogged arteries. Research is still in the preliminary stages, however, and more research is necessary to verify these effects.
The amount of hemp oil you get in supplements isn't likely to have much, if any, effect. Any benefits would come from using hemp oil in larger amounts as part of a healthy diet, according to the study authors.
Use in Cooking
Hemp oil has a medium smoke point, which means it is best for sauces, low-heat baking, light sauteing and nonheated dips or dressings. It should be refrigerated to help it last longer.
Because it's one of the more expensive types of oil, you wouldn't want to use it for all types of cooking even if it didn't have a relatively low smoke point. You'll get the most out of your hemp oil if you use it for finishing, recommends an article on the Yoga Journal website, which suggests adding it as a dressing or sauce to grain, vegetable and bean salads to give them a slight nutty taste.