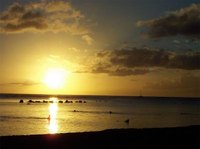 May is the best time of year to visit Hawaii. The island state has two busy tourist seasons: winter, when mainlanders head there to escape the ice and snow, and summer, when schools are out and vacation season arrives. In between these seasons is May, when there are bargains to be had on airfare and vacation packages, smaller crowds and some of the most reliable weather that Hawaii has to offer.
Rainfall
The winter season in Hawaii is characterized by rainier weather. In January, some microclimates can experience constant rain for days. Even by mid-April, the end of the rainy season, there is still a daily occurrence of rain showers. However, as April rolls into May, the rains slacken off.
Waves
Just like Hawaii's climate, the water temperature around the islands stays constant year-round. However, the winter months bring with them giant swells that crash into the north-facing beaches. While surfers favor this, the wild surf drives many swimmers into the hotel swimming pools. The calmest time of the year is traditionally in May as winter changes into summer.
Temperature
The overall temperature in Hawaii never fluctuates more than 10 to 15 degrees. For this reason, many hotels have open-air lobbies. May, however, brings the most consistent temperatures with the fewest fluctuations due to rain or other environmental factors.
Wind
Trade winds are the most common winds over the Hawaiian waters, accounting for 70 percent of the winds in Hawaii, according to the Pacific Disaster Center. These winds cool the islands in summer, and they pick up from March through May.
Sun
As the wet season ends, there is less protection from the sun's UV rays. Adding to this, the dryer weather motivates visitors to spend more time outdoors. Because of this, sunscreen is an important item to wear if you are going out in Hawaii.