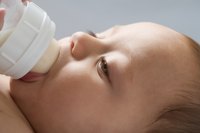 Between 2 percent and 3 percent of children under 3 years old have milk allergies, reports the American College of Allergy, Asthma and Immunology. Fortunately, around 80 percent will outgrow their allergy by the time they turn 16, and some outgrow it by as early as 5 years old. Children experience different allergic reactions, from minor upset stomachs to severe anaphylaxis. Some children can tolerate eating small amounts of dairy products without any symptoms, especially as they outgrow their allergies.
Intestinal Symptoms
The American Academy of Pediatrics states that a true milk allergy appears within a baby's first year of life because babies have an immature digestive system. Symptoms of dairy allergies are similar for children of all ages, including infants. They may appear right after the child eats something that contains milk or it may take a few hours. Intestinal symptoms may include stomach upset, which could lead to vomiting or diarrhea. You might see blood in a baby's stool if she has a milk allergy, though this is rare.
Respiratory Symptoms
Other symptoms to watch for include runny nose, congestion, coughing or wheezing. These could also be signs of other conditions or allergies to something besides milk, so it's best to ask your pediatrician. In severe, but rare, cases, children with dairy allergies may have difficulty breathing or experience anaphylaxis, which causes them to stop breathing. If this occurs, get medical help immediately.
External Symptoms
Some symptoms manifest themselves externally. For example, some infants or children will develop eczema, hives, swelling, itching or a rash around their mouth or skin where milk may have touched. An allergist can run skin or blood tests to determine if your child has a dairy allergy.
Milk Allergy Vs. Lactose Intolerance
Dairy allergies are different than lactose intolerance, and the symptoms vary as well. Infants rarely have lactose intolerance because it takes time to develop. It occurs when your body can't digest milk due to lack of the enzyme lactase, which is found on the outer edge of your intestine. A milk allergy, on the other hand, is an overreaction to the protein in milk, resulting in a buildup of antibodies. Symptoms of lactose intolerance include gassiness, diarrhea and stomach cramping. Unlike a dairy allergy, lactose intolerance is not life-threatening; it's just uncomfortable.