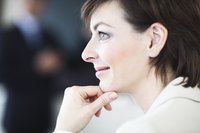 Confidence is a word often used to describe people who believe that they know what they are doing. But there are many elements to self-confidence, including the major building blocks of confidence, the relationship of confidence to health and its relationship to self-esteem.
Self-Confidence and Self-Esteem
Self-confidence is the belief that you can do something well or succeed, according to the Merriam-Webster Dictionary. This is synonymous with self-esteem, which Merriam-Webster defines as having respect for yourself and your abilities. Those who have higher self-esteem tend to be more confident.
Building Blocks of Self-Confidence
The building blocks of self-esteem are self-meaning, self-identity, self-image and self-concept, according to 2003 research published in the Journal of the National Medical Association. These elements change our confidence levels over time. If we identify ourselves as good or bad (self-identity) or see ourselves as beautiful or ugly (self-image) these things alter our esteem and how confident we are in our abilities. If you believe you are terrible at math, you have lower self-confidence in your abilities, which changes how you behave.
Developing Good Self-Esteem
Self-esteem comes about from how you see yourself and your environment and is responsive to the people around you. Confidence can be increased or decreased depending on how you are treated in early life. Parents who are harsh or use physical discipline have children who have lower self-esteem, according to research published in Developmental Psychopathology in 2012.These kids also have more depression and acting-out behaviors, which leads to lower self-confidence if those around them are critical of those behaviors. These traits can persist into adulthood.
Self-Confidence and Health
Those with higher self-esteem tend to have a healthier outlook on life. Even in cases of chronic pain, those with high self-esteem have less pain, less stress and less depression according to 2010 research in the Journal of Health Psychology. Self-confidence and self-esteem are so critical to daily life that those suffering from low confidence may benefit from seeking professional help.