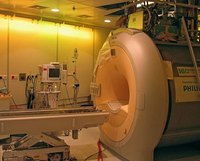 Magnetic resonance imaging, also known as MRI, is a medical scan that is used to view the internal structures of a body. It is similar to an x-ray or CT scan, although MRI technology uses radio waves and a powerful magnet instead of ionizing radiation. The MRI scan is a fairly modern tool in recognizing health problems and is considered very safe. A non-invasive procedure, it can help doctors diagnose many different diseases and abnormalities.
History
MRI technology can be traced back to 1946 when two scientists independently experimented with nuclear magnetic resonance, also known as NMR. These scientists, Felix Bloch and Edward Purcell, would both earn a Nobel Prize for their successful experiments. However, it wasn't until the 1970's that magnetic resonance would be used to study disease. It was Raymond Damadian who realized that the technology could identify tumors. By the mid-1970's, computers were being used to produce highly detailed images from magnetic resonance scans, and scientists have been fine-tuning MRI technology ever since.
Purpose
The purpose of MRI scans is to identify potential problems within the body. The technology provides very clear images of internal structures, which healthcare professionals can use to diagnose bone, tissue and organ abnormalities. MRI scans can closely examine many areas, including the brain, spine, pelvic region, joints, abdomen, heart and blood vessels.
Preparation for MRI
Preparation for an MRI scan is very minimal, as it is a non-invasive procedure. On occasion, doctors will ask patients to refrain from eating or drinking before the scan. If the doctor does not make any special requests, then the patient should eat, drink and take daily medications as usual. Any implanted medical devices, patches or pacemakers should be brought to the doctor's attention during the medical screening before the procedure. As a precaution, doctors also recommend that no make-up be worn for the scan, as some cosmetic products can contain traces of metal that interfere with the machine's magnet.
What to Expect
Although the procedure may sound daunting, an MRI is often completely painless. On occasion, a dye contrast is necessary to show results, which requires an IV. However, the needle used for this IV is very small. A hospital gown will be supplied for the scan, as metal is often found in clothing. For the same reason, all jewelry should be temporarily removed. The patient will lie down on a table and be glided into a large, circular machine. Depending on the area of the body being studied, an MRI will typically last between 15 to 60 minutes.
Risks
MRI scans are regarded as very safe procedures that cause no tissue damage. Even in cases where an IV is required, the dye contrast used is very safe and should not lead to allergic irritation. The powerful magnet inside the scanner can rapidly attract metal objects, however, which is why all metal should be removed from the body. Otherwise, an object could strike someone as it is pulled toward the magnet. This is the biggest risk involved with an MRI, which is why proper safety precautions should be taken.
Results
Once the MRI scan is complete, images will be printed and studied by a radiologist. The radiologist will interpret the results and report them to the patient's supervising physician. It is the supervising physician who will diagnose the patient directly. Typically, the patient should learn the results of an MRI within a week.