White shaker dog syndrome is a condition that causes dogs to suffer tremors. While the disease is disproportionately represented by dogs with white coats, it can occur in dogs of any color. Unfortunately, doctors do not understand why the syndrome occurs, but they have developed treatments that often alleviate the symptoms.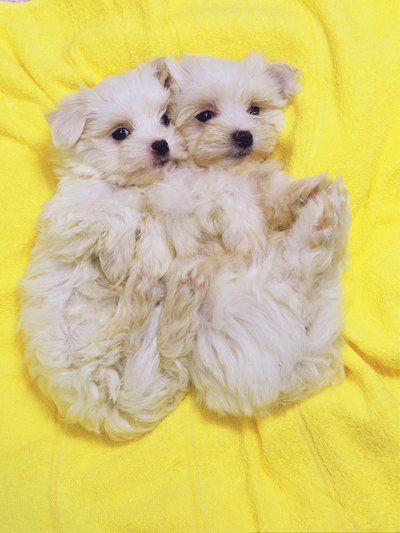 The Disease
White shaker dog syndrome is also known as generalized tremor syndrome, white shaker disease syndrome or simply shaker dog syndrome. Some veterinarians refer to the syndrome as idiopathic cerebellitis. That roughly translates to inflammation of the cerebellum, which is responsible for muscles movements and coordination, resulting from an unknown cause. Because of its prevalence in some breeds, some speculate that the disease is congenital, although this has not been determined conclusively. Some of the breeds most commonly afflicted include bichon frise, Samoyeds, Maltese, West Highland white terriers and poodles.
Signs and Symptoms
White shaker syndrome most commonly presents rather suddenly, between the ages of 5 months and 3 years. The primary symptom is involuntarily bodily tremors. The tremors are often most severe during times of high stress or anxiety. They may disappear entirely at times of rest. In extreme cases, the tremors may affect balance and coordination, even rising to the level of full-body convulsions.
Difficult Diagnosis
Veterinarians are unable to perform a simple test to determine if a dog has white shaker syndrome. Even electroencephalographs of dogs with shaker syndrome appear normal. Accordingly, veterinarians diagnose the syndrome by the process of exclusion. Usually, veterinarians investigating such dogs conduct a physical examination of the dog and then take blood, urine and spinal fluid samples, in an attempt to rule out any other potential causes. Only after ruling out other causes, such as epilepsy, toxin ingestion, general anxiety or neurological diseases, do veterinarians diagnose a dog with shaker syndrome.
Typical Treatment
Because the cause remains enigmatic, veterinarians are unable to prevent the development of shaker dog syndrome. However, regardless of the cause of the illness, corticosteroids often suppress the symptoms. Some dogs must continue to take steroids for their entire life, but others are able to stop after a few weeks of treatment and remain symptom free. Anti-anxiety medications, such as diazepam, also may provide relief for some dogs.
Good Prognosis
White shaker disease rarely causes problems aside from the primary symptoms. The syndrome is rarely fatal, and usually can be controlled with medications. However, the condition varies in severity from one dog to the next. Always visit your veterinarian if your dog exhibits signs of shaker dog syndrome.