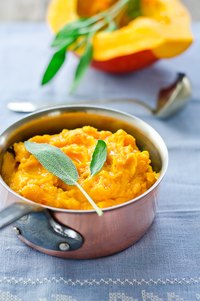 If your only experience with canned pumpkin puree is using it in a pumpkin pie, then it's time for that to change. This bright orange vegetable is rich in micronutrients and adds a burst of flavor to dishes both savory and sweet. Canned pumpkin happens to be high in nutrients and low in calories, ringing in at just 83 calories per cup.
Macronutrients and Fiber
Canned pumpkin fits easily into a healthy meal plan. In addition to its low calorie count, each cup contains 3 grams of protein, 20 grams of carbohydrates and less than a gram of fat. It also offers 7 grams of fiber, a good amount of the 38 grams and 25 grams that men and women, respectively, under 50 should get each day. Over age 51, the recommended amount of fiber daily decreases to 30 grams for men and 21 grams for women. Getting enough fiber daily helps normalize bowel movements and maintain bowel health, lowers cholesterol levels, controls blood sugar and helps maintain a healthy weight.
Vitamin Content
Like other bright orange vegetables, pumpkin is packed with vitamin A. With 1,906 micrograms per cup, it soars past the 625 micrograms recommended daily for men and 500 micrograms for women. The perks of vitamin A consumption include healthy skin, teeth and skeletal and soft tissue; it also promotes good vision.
Each 1-cup serving of canned pumpkin also provides 10 milligrams of vitamin C, which is 13 percent of the 75 milligrams needed per day for men and 17 percent of the 60 milligrams needed per day for women.
The serving of pumpkin also offers 2.5 milligrams of vitamin E -- 22 percent of the 12 milligrams needed for adults -- and 39 milligrams of vitamin K. This is equal to 33 percent of the daily reference intake for men and 44 percent for women.
Mineral Makeup
By eating 1 cup of pumpkin puree, you'll get 3.5 milligrams of iron, which equates to 57 percent of the DRI for men and 42 percent for women. It also provides 56 milligrams of magnesium; the Institute of Medicine recommends 330 milligrams a day for men age 19 to 30 and 255 milligrams for women in the same age range. After age 31, recommendations increase to 350 milligrams for men and 265 milligrams for women. Canned pumpkin also contains 11 percent of the DRI of potassium for adults, with 505 milligrams per serving. The vegetable is also low in sodium at just 12 milligrams per cup.
Using Canned Pumpkin
When buying canned pumpkin, ensure that it's only the vegetable and not the sugar-laden pumpkin pie filling. Add it to your steel-cut oats with some cinnamon and vanilla for a breakfast pumpkin pie oatmeal. Blend it into a smoothie to add a boost of nutrients, or turn it into a dip by mixing it with hummus and dipping pita chips into it. You could also stir a serving of pumpkin in your chili, curry or macaroni and cheese -- the bright orange of the cheese hides the pumpkin, making it an excellent way to sneak extra vegetables into your kids' favorite foods.