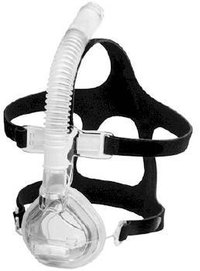 Continuous Positive Airway Pressure, or CPAP, is used to treat sleep apnea by delivering a steady flow of compressed air from a small machine through a hose that is connected to a face mask or nasal pillows that fit into the nostrils. The continuous stream of air creates pressure that keeps the airway open. Sleep apnea occurs when the muscles in the airway relax, causing a narrowing that restricts or even stops breathing. As a result, less oxygen reaches the brain, which sends a signal to the body to wake up. In some cases, it can happen hundreds of times a night. Using CPAP to treat obstructive sleep apnea has been shown to provide significant health and quality of life benefits, provided patients comply with the therapy. Despite the known benefits a fair number of them don't.
Compliance Key to Success
According to studies, success in treating sleep apnea with CPAP is largely determined by patient compliance. The frequency and length of time with which CPAP is used have a direct correlation to treatment success and patient improvement.
Adjusting Sometimes Difficult
Some patients have relatively few problems adjusting to the therapy. Others find it very difficult, even impossible, getting acclimated to the cumbersome and uncomfortable head gear and breathing apparatus that must be worn while sleeping. Patient complaints include:
-Anxiety from wearing a mask that covers their nose and/or mouth
-Dry nose and throat
-Headaches
-Skin irritation
-Noise of the CPAP machine keeping them awake.
CPAP therapy compliance rates of around 70 percent are fairly typical and increase to around 80 percent when a health professional provides patient education, support and follow-up. Compliance is only about 50 to 60 percent without clinical support.
Immediate Benefits
Those able to adjust to the therapy and make the necessary behavioral and lifestyle changes see numerous, and in some cases, almost instantaneous health benefits. CPAP therapy:
-Reduces heart disease and risk of stroke by lowering blood pressure and taking strain off the heart so it is allowed to function more normally;
-Reduces risk of diabetes. Many with sleep apnea also have diabetes and treating the apnea helps control blood sugar levels, which decreases the health risks of related complications like obesity and high blood pressure;
-Improves alertness and concentration. The therapy can help restore normal sleep patterns, which in turn improves sleep and decreases daytime sleepiness. This reduction in daytime sleepiness results in better productivity at home and work and fewer motor vehicle accidents.
Improves Quality of Life
CPAP can affect a patient's emotional stability and quality of life by relieving symptoms of depression and anxiety, often caused by lack of restorative sleep. A Journal of Clinical Sleep Medicine study found that improvement in sleep continuity from CPAP therapy results in a statistically significant long-term reduction in symptoms of depression. CPAP can also reduce medical expenses. Treating sleep apnea with CPAP has the added benefit of helping treat other related symptoms and conditions, like high blood pressure and diabetes. The result is fewer doctors' visits and a subsequent decrease in associated medical and surgical costs. CPAP reduces, and in some cases, eliminates snoring. This benefit may not be that noticeable to the patient, but it is to the patient's bed partner. Partners often report improved sleep patterns of their own after CPAP has been used.
Newly Discovered Benefit
CPAP is now being used with success as a post-op therapy for heart surgery patients. The May 2009 issue of Chest published a recent study that found CPAP prevents pneumonia, hypoxemia and other pulmonary complications in post-op heart surgery patients by improving blood oxygenation without affecting heart rate and blood pressure. It not only benefits the patient, but also reduces the rate of hospital readmission related to these complications, keeping beds open and costs down. The study also concluded that CPAP was a well-tolerated, simple and inexpensive post-operative therapeutic technique.
Treatment of Choice
As common as diabetes, sleep apnea affects more than 12 million Americans according to the National Institutes of Health. CPAP therapy is considered the most effective, non-surgical treatment for obstructive sleep apnea and doctors typically recommend it as their first treatment of choice. However, compliance with the therapy can be stymied by some of the challenges patients face. Success is improved by closely following the therapy prescribed by the doctor and seeking guidance, education and support from health care professionals when difficulties arise.