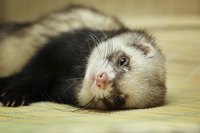 Ideally, pet ferrets should eat commercial ferret food, if not a whole-prey diet. If manufactured ferret chow isn't available or if you run out, and a whole-prey diet is too gross for your comfort, feeding cat food is safe and acceptable. Ferrets and felines are both obligate carnivores -- they must eat meat. Feed ferrets a high-quality cat food with no grains or vegetables, one designed for adults or kittens. Always provide your ferret clean, fresh water.
Feeding Ferrets
The American Ferret Association recommends feeding ferrets a cat food that's low in carbohydrates and no more than 20 percent fat. The content should be, at minimum, 36 percent protein. Commercial ferret foods generally are 30 percent to 40 percent animal protein and 15 percent to 20 percent fat, with no grains. Since ferrets require free-choice feeding, dry kitty kibble is a better choice than canned foods, since the latter can get rancid if not consumed quickly.
Because ferrets learn food preferences in their first year of life, the AFA recommends feeding various meats and kibble during that period, to prohibit food avoidance issues later on. You can feed appropriate no-grain cat food for the life of the ferret, or switch back and forth between ferret and feline food as necessary.
Whole Prey Diet
Ideally, ferrets should consume a whole-prey diet. Such a diet includes rats, chicks and pinkies, baby mice. Cats will happily catch and consume the same prey. However, most people don't cater to the idea of feeding baby birds or rodents to their pets, so a commercial diet fills the bill.