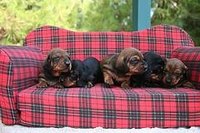 Just as a dachshund can suffer the same allergies as his human parents, he can also develop asthma as a result of those allergies. Left untreated, his asthma attack could develop into full-blown respiratory distress and possibly threaten his life but, with proper diagnosis, lifestyle changes and treatment, your asthmatic dog can go on to live a normal and happy life.
What Is Asthma
Asthma occurs when an allergic reaction causes inflammation of your dachshund's airways. Air passageways in his lungs fill with mucus, become inflamed and constricted and go into spasms. If ignored, asthma can develop into respiratory distress and, in some rare cases, threaten the dog's life. He may lose his appetite and become lethargic during an asthma attack, but will recover quickly once the attack has passed.

Signs of Asthma
It is advisable to take your dog to your veterinarian for evaluation if your dog simultaneously develops chronic cough and exhibits loss of appetite. Your veterinarian most likely will order a chest x-ray to rule out other possible causes of your dog's distress (such as pneumonia) before diagnosing asthma. Signs that your dog is experiencing a full-out asthma attack include lack of breath, wheezing and violent coughing.

Asthma Treatments
Your veterinarian will usually prescribe medications such as steroids, antihistamines, and bronchiodilators for asthma management. She may also administer epinephrine during severe attacks. However, there are some things you can do at home to alleviate the effects of a less-severe attack, such as sitting with your dog in a steam-filled bathroom until his airways relax and his breathing returns to normal. You can also run a vaporizer to ease his congestion.
Recommended Lifestyle Changes
Lifestyle changes will go a long way toward eliminating the cause of your dachshund's asthma. Dachshunds are prone to obesity, so keep him on a lean and healthy diet made up of preservative- and additive-free foods and provide him with lots of opportunity for exercise. Obesity can strain the respiratory system and lead to breathing difficulties. Keep his exposure to allergens to a minimum. Eliminate cigarette smoke, heavily scented perfumes and beauty care products and strong cleaning products from his immediate vicinity. Any of those can trigger an allergy/asthma attack.

Conclusion
As with any medical condition, it is vitally important for you to consult your veterinarian if you suspect that your dachshund is suffering from asthma. Asthma does not have to limit his life, provided you make the right lifestyle changes and get him good medical treatment when necessary.