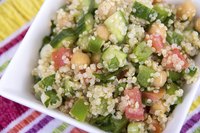 Just over 3 percent of adults in the United States follow a vegetarian diet, with up to 10 percent saying they eat a vegetarian-influenced diet, according to Vegetarian Times. If you're considering a vegetarian diet, weigh the pros and cons to decide whether it's for you.
Better Health and Longer Life
Evidence seems to show that vegetarians are at a lower risk of high blood pressure, diabetes, certain cancers and heart disease, claims dietitian Johanna Dwyer of Tufts University Medical School. Vegetarians may live longer, too. This is all likely due to the higher amounts of vitamins, minerals and fiber in the typical vegetarian diet and lower intakes of processed foods.
Weight Loss
Following a vegetarian diet may also lower your risk of being overweight or obese. A study published in a May 2009 edition of the "Diabetes Care Journal" found that when comparing five diets with varying levels of animal product consumption, vegans had the lowest body mass index, followed by lacto-ovo vegetarians, pesco-vegetarians, semi-vegetarians and finally nonvegetarians.
Possible Deficiencies
While vegetarian diets encourage eating fruits, vegetables and beans, they also pose a risk of nutrient deficiencies. Vitamin B-12, for instance, can only be obtained from animal products. If you're lacto-ovo or pesco-vegetarian, this shouldn't be an issue, but those on vegan diets will need foods fortified with vitamin B-12. Essential fatty acids are found in high amounts in oily fish, so you may need a supplement to help you get an adequate omega-3 fat intake, while meat is a good source of easily absorbed iron, so consuming plenty of dark green vegetables is vital to meet your iron needs.
Athletic Performance
Vegetarian athletes may find it slightly more difficult to maximize performance. Getting enough protein can be tricky for strength athletes. Though beans, nuts and whole grains do provide protein, these proteins are incomplete and need to be combined to ensure you're getting a full amino acid profile. Likewise, many vegetarian protein sources are also higher in carbohydrate and or fat, whereas lean meats such as chicken, lean steak and white fish contain virtually no carbs or fat. The Australian Institute of Sport advises that vegetarian athletes eat a variety of foods, including meat substitutes, and look for high-calorie, low-volume foods to fuel up on, such as nut butters.