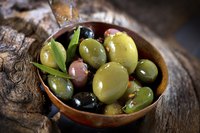 Originally heralding from the Mediterranean, olives have a history of cultivation dating back at least 5,000 years, making them one of the oldest fruits still eaten today. Over 860,000 tons of table olives, in fact, find their way into pantries, meals and snack plates around the world each year. Along with packing abundant flavor, olives supply heart-healthy fat, fiber and a spectrum of vitamins and minerals, making them a tasty and nutritious addition to your diet.
Heart-Friendly Fatty Acids
Out of all of their nutritional perks, olives are most famous for their fat content -- namely the monounsaturated fatty acids that make up the bulk of their oil. A 67-gram serving of ripe, black canned olives -- about 15 large ones -- contains 5 grams of monounsaturated fat, along with 1 gram of saturated fat and 0.6 gram of polyunsaturated fat. As the American Heart Association explains, the monounsaturated fat abundant in olives may help improve your cholesterol profile, potentially reducing your risk of heart disease and stroke.
Health-Boosting Micronutrients and Antioxidants
When eaten whole, olives supply minerals and antioxidants that may be a boon for your health. Each 67-gram serving of black olives contains 2.2 milligrams -- or 12 percent of your daily requirement -- of iron, a mineral vital for maintaining normal cell functioning, promoting growth, synthesizing connective tissue and manufacturing certain hormones. Olives also contain copper, a mineral that assists in iron metabolism, connective tissue formation, gene expression and energy production: a 67-gram serving of olives contains 0.17 milligram of this nutrient, or 8 percent of your daily requirement. In addition, olives are rich sources of antioxidant polyphenols. According to a 2009 review in the "International Journal for Vitamin and Nutrition Research," the main polyphenol in olives -- hydroxytyrosol -- may reduce levels of heart-hazardous oxidized LDL in your blood, potentially protecting against cardiovascular disease.
Energy Density and Macronutrients
Although they boast an impressive nutritional content, olives are not a low-calorie food: each 67-gram serving contains 77 calories -- or about 5 calories for a single large, black olive. And while their main macronutrient is fat, olives also contain smaller amounts of protein and carbohydrate. A serving of black olives offers 0.6 gram of protein and 4 grams of carbohydrate, about half of the latter coming from fiber. That fiber, in fact, equals 8 percent of your recommended daily intake, potentially bringing with it a reduced risk of colon cancer, diabetes and heart disease.
Comparing Different Olive Varieties
The nutritional content of olives may vary slightly between different types of olives. Compared to black olives, a serving of pickled green olives contain more calories and fat -- 97 and 10 grams versus black olives' 77 calories and 7 grams fat. Green olives also contain 2.5 milligrams of the antioxidant vitamin E, 12 percent of your daily requirement. In addition, due to different processing methods, green olives tend to be much higher in salt than black olives: Green olives contain 1,043 milligrams of sodium per serving, compared to 492 milligrams for black ones -- or 43 versus 21 percent of your recommended daily intake, respectively. Too much dietary sodium can lead to high blood pressure for some people, as well as cause dangerous fluid retention in people with kidney disease, congestive heart failure or cirrhosis.