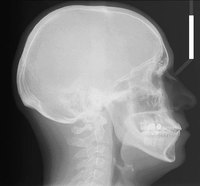 Spinal meningitis is an inflammation of the brain and spinal fluid. There are two basic types of spinal meningitis, one caused by viruses and one caused by bacterial infections. The different types of spinal meningitis have varying levels of severity, with some even resulting in death. Symptoms can be deceiving and can come on quickly. Young people and those with weakened immune systems are most at risk for spinal meningitis.
Identification
In spinal meningitis, a viral or bacterial infection migrates into the bloodstream and is carried to the brain. The Centers for Disease Control (CDC) defines spinal meningitis as an infection of the fluid of a person's spinal cord and the fluid that surrounds the brain. Depending on the type of infection and the strength of the patient's immune system, the severity of spinal meningitis can range from mild flu-like symptoms to rapid death.
Types
There are two basic types of spinal meningitis--viral and bacterial. Viral spinal meningitis, also called aseptic meningitis, is the most common type and is typically fairly mild and non-lethal. Its symptoms commonly mimic influenza or a mild respiratory infection. Viral spinal meningitis often resolves itself without medical intervention. Bacterial spinal meningitis is less common and far more deadly. It has a rapid onset and often affects young people. Bacterial spinal meningitis can cause blood vessel blockage, leading to strokes, permanent brain damage and death.
Viral Causes
Viral spinal meningitis is often caused by enteroviruses, which MedTV says are common viruses that enter the body through the mouth and travel to the brain and surrounding tissues where they multiply. These viruses are naturally present in saliva, mucus and feces. Viral spinal meningitis can also be caused by the varicella-zoster virus (which causes chickenpox and shingles), influenza virus, mumps, HIV and herpes simplex type two.
Bacterial Causes
Bacterial spinal meningitis has several forms, some of which are far more common than others. Pneumococcal spinal meningitis is the most common and most serious form of bacterial spinal meningitis. It is often fatal and is caused by the streptococcus pneumoniae bacterium. The second most common type is meningococcal spinal meningitis, most common among young people age two to 18. It is caused by the neisseria meningitides bacterium and results in brain damage or death in 20 to 30 percent of cases. Less common bacterial spinal meningitis forms are caused by listeria, e. coli and tuberculosis bacteria.
Warning
Both viral and bacterial spinal meningitis can be easily spread through person-to-person contact and object contamination. It is important to diagnose and treat spinal meningitis as early as possible to prevent spread of the illness, as well as to prevent severe symptoms. Children, young people and adults with weakened immune systems should follow general health guidelines to avoid spinal meningitis, including frequent hand washing and avoiding shared drinks and eating utensils.