Offshore drilling, simply put, is the process of exploiting mineral resources in the seabed; most of those resources are related to the oil and gas industries. Drilling is conducted by several kinds of specialized vessels, some with a planing hull supporting huge legs and a drilling platform, some with legs more than 300 feet long that rest on the seabed to support a drilling platform, and some that are ships, either purpose-built or converted from other forms of commercial vessel, with a drilling rig on top.
History
In 1887, H.L. Williams built a 300-foot wharf on the beach at Summerland, Calif., and placed a drilling rig on it. In 1947, Kerr-McGee Corp. drilled a well beyond the horizon; the movie "Thunder Bay" with James Stewart is based on the story of this well and its barge-and-platform construction. Two years later, in 1949, 11 oil fields were being worked in the Gulf of Mexico and 44 "try" wells used for exploration. Today, the U.S. Minerals Management Service manages more than 43,000,000 acres of offshore energy fields on the Outer Continental Shelf.
The Jack Up Rig
Offshore drilling is done by a jack-up drilling rig, or drill ship. These are large specialized vessels equipped with a full drilling rig. Tugboats tow the jack-up drilling rig to the drilling location, where its "legs" are hydraulically jacked down to the seabed; then the hull of the vessel jacks up on the legs until it is out of the water.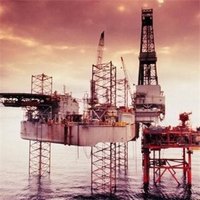 The Drill Ship
The drill ship is a large ship with a drilling derrick amidships. Drilling occurs through a "moon pool" in the center of the ship. The drill ship is equipped to stay on station for a long time. Crew changes are generally accomplished by helicopter. The vessel may travel worldwide in the course of its contracts.

The Semi-submersible Drilling Rig
The semi-submersible rig is a very large vessel, sometimes self-propelled, that has fixed legs up to 70 feet long and a planing hull below the water. The legs serve as storage for equipment, ballast water and fuel. The semi-submersible is used around the world.

Jobs in Offshore Drilling
The rigger is the entry-level job on a drilling vessel or platform. The rigger rigs drill pipe for the derrick, handles the coupling of drill pipes together to form the drill string (multiple drill pipes tipped with a diamond rock drill), manages the drill string at the deck level and assists the driller, the tool pusher and other riggers. The driller has physical control of the drilling operation. The tool pusher is the drilling operation manager. Other trades, from medics and cooks to mechanics, also work in offshore drilling. Most work seven days on the platform, then have a week off before returning to the rig for another seven-day stint.