Passengers who crochet and knit can enjoy doing so in-flight provided they take a few simple precautions in selecting their tools. Some crochet and knitting needles are allowed in your carry-on baggage and others are not.
Choose Smartly
The primary job of Transportation Security Administration officers is to look for what can be a realistic danger to passenger safety. In the end, whatever the rules say, the officers' discretion is what carries the day.
The TSA recommends the following to ensure you have no problems bringing your work on board: Circular needles should be no longer than 31 inches. Choose bamboo and plastic needles, not metal. Scissors should have blunt tips--and plastic might be preferred to metal. And bring a crochet hook with yarn to save your work in case a TSA officer takes your tools.
As a rule, shorter needles attract less attention, so try to keep it simple for the purposes of travel. You can take the longer needles with you, but leave those in your checked luggage.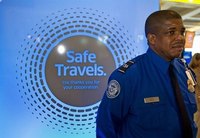 What If They Take My Tools?
Bring a self-addressed, stamped envelope with you, just in case. If an officer takes your needles or other tools, he or she will mail them back if you provide the envelope.

Other Allowed Items
Most of your crafting tools are allowed, including sewing needles, quilting needles, pins, thread cutters and nail clippers.
Contraband Items
A few items will be confiscated no matter what. The TSA says these are no-no's: circular thread cutters, cutters with a blade contained inside, scissors with pointed tips and any longer than 4 inches, knives, razor blades, and anything else that can be perceived as having use as a weapon.
When In Doubt, Check It In
In most cases, what you can't carry on can be checked in. Long needles, scissors, circular thread cutters and even knives and razor blades won't cause you problems in your checked luggage.