When trying to lose weight, hunger can be your biggest enemy. But it doesn't have to be if you know what foods to choose. Eating foods that are both low in calories and filling -- referred to as low-energy-dense foods -- can satisfy hunger while helping you keep a lid on your calorie intake.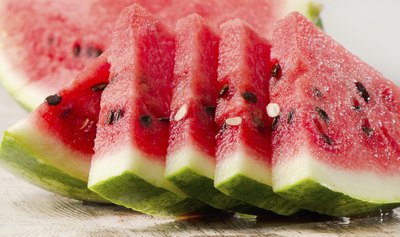 About Low Energy Density
Energy density refers to the number of calories a food has compared to its weight, normally expressed as calories per gram. A food with a low energy density has few calories compared to its weight. For example, a 1-cup serving of sliced and peeled cucumber, which weighs 119 grams, has 14 calories or 0.1 calories per gram. Fruits, vegetables and broth-based soups are all low-energy-dense foods. People who eat a low-energy-dense diet consume fewer calories and have an easier time managing a healthy weight, according to the Centers for Disease Control and Prevention.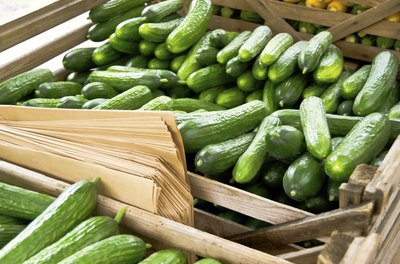 Veggies: The Lowest of the Low
Most vegetables, when prepared without added fats or sauces, are very low-energy-dense foods. In addition to cucumbers, other very low-energy-dense vegetables include cabbage, lettuce, celery, tomatoes, peppers, asparagus, summer squash, spinach, mustard greens, button mushrooms, green beans, tomatoes, cauliflower and broccoli raab. All of these vegetables contain less than 22 calories per 100 gram serving. Other filling low-calorie vegetables include carrots, eggplant, Brussels sprouts, beets, salad greens and onions, which have about 25 calories per 1-cup uncooked serving.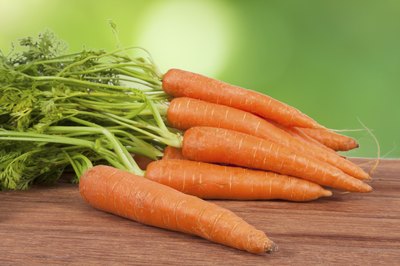 Fruits Keep You Full
Fruits are also low-calorie, filling foods. Very low-energy-dense choices include watermelon, strawberries, cherries, grapefruit, cantaloupe and honeydew melon, peaches, papaya, nectarines, pineapple, oranges, apricots, raspberries, apples, blueberries and plums. All of these fruits contain less than 60 calories per 100 gram serving. In addition to their large serving size, the fiber in both fruits and vegetables also helps keep you feeling full after eating.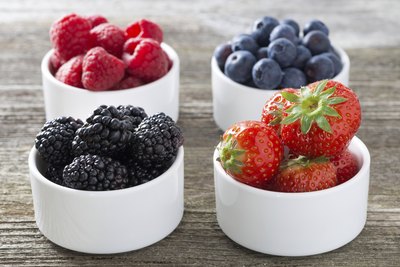 Broth-Based Soups Help, Too
Enjoy a bowl of broth-based soup before your meal to help you eat less of your main entree. Soups also make filling snack choices. Low-calorie soup choices include minestrone, chicken noodle, turkey vegetable and broth-based mushroom. Keep in mind that soups are a source of sodium, which, in excess, causes your body to retain fluids and can increase blood pressure. Keep your sodium intake in check by choosing soups that contain less than 140 milligrams of sodium per serving.