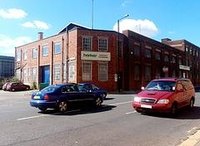 Using a sign to advertise your business can be an effective promotional method. By having an outdoor sign, you can reach many people at once and, if that sign is in the right location, it could generate a lot of traffic to your business. Before you purchase advertising space on an outdoor sign, take into consideration the location of the sign, traffic patterns, costs associated with the sign and words you want on your sign. Advertising and marketing companies can assist you in the initial planning stages of obtaining outdoor signs. There are a variety of outdoor signs that a business can use to attract customers. Read on for various types of available outdoor signs.
Mobile Advertising
Mobile advertising is a relatively new way to advertise a business or a product, but this method is quickly catching on. You can purchase space on the sides or the back of the mobile advertising truck, which will bring your outdoor sign through highly populated areas and promote you business. Mobile advertising trucks are not limited to one ad on the same side of the truck. Some can have two or more ads that rotate, making your ad more noticeable to viewers. Mobile advertising companies will drive their trucks through high-traffic areas, attend special highly populated events and also park in areas where many people will see your ad.
Billboards
Billboard advertising can be a very effective way to promote your company, product or service. Billboards are often located near major highways and other high-traffic areas and digital billboards are becoming the rage. Digital ads are much crisper and brighter than regular billboard ads and they can rotate with other ads, making your outdoor sign more noticeable to people who are driving at a moderate pace in traffic. Billboards are especially noticeable to passengers in cars.
Sandwich Boards
Sandwich boards can be effective for businesses that are located close to other businesses, as you have in a strip mall. Sandwich boards notify potential customers about deals going on inside the business. Restaurants can use this type of sign to notify passersby of specials or to publish the menu. A sandwich board is convenient because you can pull it inside your business when you close up shop for the night and then set it out again the next day.
Banners
Banners are a type of outdoor sign that you can use, clean and store for a future event. You can hang banners above the door of a location and notify passersby of special sales that are occurring. You can also use a banner to notify people of a grand opening or other significant event.
Building Signs
Digital or LED signs can be adhered to the front or the side of your building, advertising that your business is inside. This is especially useful if your business might be hard to find, like a fast-food restaurant located inside a bigger retail establishment. The public might not even know it is there unless there is a brightly lit sign to advertise the fact. The signs can very colorful and some can even flash, which makes them more noticeable to the public.