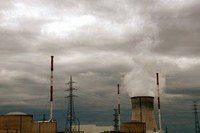 Air pollution is a top concern among environmentalists and conservationists. Hundreds of laws are aimed at reducing air pollution and minimizing its effects, and herbalists have created numerous detoxification and cleansing solutions to heal the body from the damage caused by air pollution. Doctors and researchers have uncovered several diseases that seem to be caused by, or at least aggravated by, air pollution, including asthma, chronic obstructive pulmonary disease and emphysema.
Asthma
Air pollution is a trigger for and one of the known causes of asthma. For people who already suffer from asthma attacks, air pollution can aggravate their condition and trigger attacks. In addition, otherwise healthy people can develop asthma after years of living or working in an area with heavy air pollution. This type of asthma is known as "occupational asthma," as it is a result of working in a particularly contaminated area.
Chronic Obstructive Pulmonary Disease
Chronic obstructive pulmonary disease (COPD) is a condition associated with frequent lung inflammation and infections such as bronchitis and pneumonia. Smoking is the the main cause of COPD, but prolonged exposure to heavy air pollution can cause the disease as well.
Emphysema
Emphysema is often associated with smoking and causes as much as 80 percent of cases, but air pollution and workplace air contaminants also cause emphysema. Pollutants in the air or smoke accumulate in the lungs and damage the mucus that keeps the lungs clean and healthy, leading to inflammation, infection and blockage.
Lung Cancer
Air pollution is a contributor to lung cancer, particularly in people who grew up in areas with significant air pollution, as pollution exposure during the developing years can have a significant impact on lungs. Accumulation of small particles from the air in the lungs can lead to cancerous growth, and air pollution has been determined to raise the risk of lung cancer as much as second-hand smoke.
Heart Disease
Air pollution has been shown to be a factor in the development of all heart diseases, including heart attack and stroke. Secondhand smoke has been shown to increase the incidence of heart diseases, and carbon monoxide and nitrogen dioxide are also contributors. Air pollution has been shown to cause heart disease as air pollutants enter into the lungs and seep into the blood vessels, producing an inflammatory response and raising heart rate.