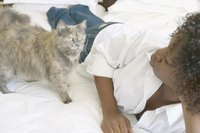 The thyroid gland, while small, packs a powerful punch in providing hormones that control your cat's metabolism. Most cat owners wouldn't give this gland much consideration until its determined that is isn't functioning properly. Your cat will exhibit certain noteworthy symptoms that, when shared with your veterinarian, may help him make the diagnosis of hyperthyroidism or hypothyroidism, both caused by changes in the thyroid's hormone release, with the latter being exceedingly rare.
Hyperthyroidism: The Cause
Hyperthyroidism is the leading glandular disorder in older cats. Less than 6 percent of cases occur in cats younger than 10 years of age, and most afflictions occur after a cat's 12th birthday. Hyperthyroidism is caused by an excessive presence of the hormone thyroxine, also called T-4. The disease is not breed or gender specific and symptoms are similar in cats regardless of age, breed or sex.
What to Look For
Hyperthyroidism presents with some very specific symptoms that don't require a veterinary education to identify. Mostly commonly, cats with the affliction will experience weight loss, and in greater than half of those affected, appetite will increase while weight decreases. Also common is panting, diarrhea, shedding and an unkempt appearance, as well as excessive thirst and urination. These symptoms are caused by the body's reaction to the increase production of thyroxine, and the hormone's effect on the organ systems of your cat's body. Frequently, these symptoms may be mistaken for other ailments such as diabetes, intestinal cancer, bowel disease and kidney failure.
Diagnostics and Treatment
A complete blood count, and urinalysis will not diagnose hyperthyroidism but will rule out other diseases and afflictions that may present with the same symptoms. A test of the T-4 is the most telling, although concurrent afflictions, common in geriatric cats, may skew these test results. Treatment includes medication such as Tapazole, which may regulate the production of thyroxine in as little as two weeks. Other methods for controlling hyperthyroidism include radiation to destroy the improperly functioning tissue, which requires hospitalization until radiation levels return to a safe level, and surgical removal of the thyroid. Treatment by medication requires a lifetime of retesting, while radiation and surgery are more permanent cures. Surgery poses an additional risk of the effects of anesthesia on senior and geriatric cats.
Hypothyroidism: A Rare Disorder
Exceedingly rare is hypothyroidism, the opposite of hyperthyroidism. This transitory affliction is normally seen in cats after radiation treatment or surgical removal of the thyroid gland. Its symptoms include unkempt appearance, lethargy and weight gain, as well as mental dullness and inactivity. Blood tests can reveal decreased hormone levels and the presence of hypothyroidism. Repeated tests are necessary to determine that levels have returned to normal. In most cases, treatment is not required, but rarely, synthetic hormone replacement therapy is necessary to return the levels to a normal range. Both afflictions require proper diagnostics and medical treatment. Any changes in your cat's behavior or appearance should be further evaluated by her veterinarian.