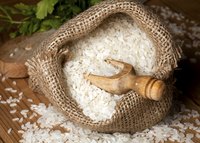 With its well-rounded nutritional profile that includes vitamins, minerals, fiber and healthy fat, rice bran offers lots of health benefits in each small serving. To get the most from your rice bran, look for stabilized varieties -- they're modified to lengthen their shelf life because unprocessed rice bran goes rancid quickly.
Vitamins for Energy Production
Rice bran offers minerals that help your cells produce energy. It's high in several B-complex vitamins including B-1, B-3, B-5 and B-6. Collectively, these nutrients help you convert carbs, protein and fat into usable energy for your tissues. The B-complex family also provides support for red blood cell production and nerve function. Each 2-tablespoon serving of rice bran contains 28 percent of the daily value for vitamin B-1 and 31 percent of the daily value for B-6. You'll also get one-quarter of the daily value of B-3 and 11 percent of the daily value for B-5.
Fiber and Fat for Digestion
Healthy digestion not only helps you absorb the nutrients from your food, it helps you eliminate waste. Rice bran's fiber content keeps you regular, while its healthy fats promote nutrient absorption. A small amount of fat in your meals helps you absorb fat-soluble nutrients -- a group that includes vitamins A, D, E and K.The fiber in rice bran adds volume to your stool, which helps move it through your system. Adding 2 tablespoons of rice bran to your meal adds 3 grams of heart-healthy unsaturated fat, plus 3 grams of dietary fiber.
Iron and Copper for Immunity
Make rice bran your new best friend for robust immunity. It's loaded with iron, which helps white blood cells -- the immune cells in your bloodstream -- destroy pathogens. Rice bran also offers a generous amount of immune-boosting copper. While it's not well-understood exactly how copper promotes immunity, low copper levels reduce your white blood cell count, which prevents healthy immune function. A 2-tablespoon serving of rice bran boosts your iron and copper intakes by 3 milligrams and 107 micrograms, respectively. That's equivalent to 15 percent of the daily value for iron and 12 percent of the recommended daily intake for copper.
Serving Tips and Suggestions
Rice bran has a neutral flavor, so you can easily add it to hot or cold cereal without significantly changing its taste. Whisk a spoonful of rice bran into your favorite homemade salad dressing for a nutrient boost, or add it to smoothies for added texture and nutritional value. Rice bran works well in baked goods -- try adding it to homemade whole-grain muffins -- or as an addition to whole-wheat pancakes or waffles.