Eating too much, or too little, as well as loading your plate with lots of processed, empty-calorie foods, can have serious health consequences. An unhealthy diet tends to promote weight gain and puts you at a higher risk of developing chronic disease. Making poor or uninformed nutrition choices may also lead to nutrient deficiencies, and this can further jeopardize your health. A healthy diet doesn't have to be complicated or dull. Simply prioritize vegetables, lean proteins and whole grains to get more of the nutrients you need to thrive.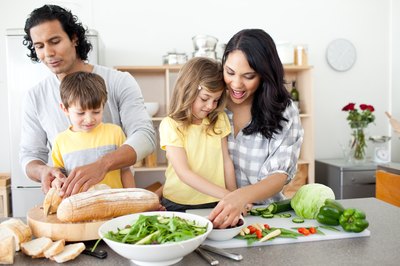 Increased Risk of Illness
An unhealthy diet contributes to the development of coronary heart disease, some types of cancer, stroke, type-2 diabetes, osteoporosis and high blood pressure. Not only do these diseases potentially shorten your lifespan, but they also tax your quality of life. You're more likely to miss work and accrue higher medical expenses as a result of these conditions too. As you age, diseases such as osteoporosis compromise your ability to live independently.
Years may pass before these chronic diseases manifest, but an unhealthy diet's nutrient shortfalls can lead to a weakened immune system, making you more vulnerable to communicable illnesses, such as the flu or common cold.
Poor Body Composition
People who eat an unhealthy diet are often overweight or obese, which contributes to the development of chronic disease. You don't have to be overweight, though, to suffer the consequences of an unhealthy eating plan. Even if you are of normal weight but consume too much sugar and refined grains, you can be at risk of high blood pressure, high cholesterol and unhealthy blood sugar levels. Lots of refined sugars, processed carbohydrates and trans fats encourage the body to store fat in the belly around the internal organs. This visceral fat excretes inflammatory hormones that negatively affect your health, whether you look overweight or not.
If your unhealthy eating habits do lead to weight gain or obesity, you may experience joint problems or sleep disruptions due to the excess weight -- even if you haven't yet been diagnosed with a chronic disease.
Nutritional Deficiencies
An unhealthy diet doesn't provide all the nutrients you need. Common deficiencies include vitamins B-12, C and D, iron, magnesium, zinc and iodine. You may also find yourself short of fiber and the essential fatty acids. In the short term, these deficiencies may cause fatigue, weakness, constipation, inability to concentrate, irritability and depression. Long-term deficiencies in certain nutrients, such as vitamin B-12, can lead to permanent damage to nerves and interfere with growth.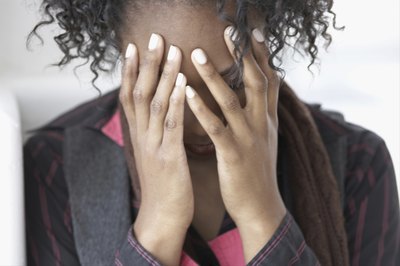 Turning Your Diet Around
Your first step to a healthy diet involves cutting back on the amount of processed foods you consume. These include packaged snack foods, soda, fast food, canned items, candy, frozen dinners and boxed cereal. Reach for whole, natural foods as often as possible. Instead of grabbing a cereal bar and a can of fruit cocktail for breakfast, for example, opt for plain yogurt with fresh berries and toasted almonds. For lunch and dinner, reserve about half of your plate for fresh raw or steamed vegetables; another quarter for a lean protein such as chicken, flank steak, lentils or fish; and the final quarter for whole grains, such as brown rice, quinoa, a whole-wheat roll or barley. A starch such as sweet potatoes or mashed winter squash is an alternative to whole grains.
Minimize your use of canned or jarred sauces and dressings and instead use olive oil, vinegar, citrus juices, fresh herbs and spices to flavor your foods. Whole-food snacks include nuts, seeds, cut-up veggies, bean dip, cottage cheese and fruit.