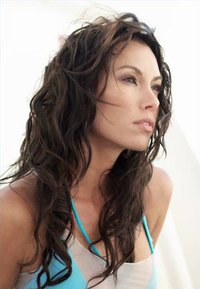 Oily hair can be very frustrating, especially when it's unmanageable and you only washed it an hour ago. There are many reasons hair is oily. There are also many suggestions on how to get rid of it, including hundreds of hair products on the market that promise to fix the problem. But understanding why your hair is so oily is the key to properly maintaining it once and for all.
Adolescence
Oily hair is one issue many adolescents face. When puberty hits, so do hormones that fluctuate, causing the oil glands to become saturated. This is why so many teens struggle with acne as well.
Exercise
Exercise can cause your hair to be extra oily, especially if you exercise excessively and already naturally have an oily complexion. Sweating stimulates all of your glands--oil and sweat glands together. When you sweat or produce oil, it's all coming out of the same pores.
Pregnancy
Pregnancy changes things. Your dry skin and hair may become very oily during pregnancy. This is due to the fluxuation of hormones. It's temporary, and after the baby is born your body regulates back to its natural hormonal balance most of the time.
Heat and Humidity
Because sweat and oil are released through the same pores, the warmer it is and the wetter it is, the more oily you will become. When the weather is hot and humid, the body naturally cools itself by sweating. With that sweat comes oil, and for those who produce more oil, this will be more obvious.
Hair Color and Texture
Hair color and texture play a part. Redheads tend to have drier hair; blonds tend to have oilier hair. This doesn't mean it's a guarantee, but it is the reality of hair.
Food
If your diet is heavy in oil-based foods--such as deep-fried foods or salad dressings and fatty foods--you may have oily hair. This is the body's way of getting rid of excess fats and oils.